Quality Education as a Constitutional Right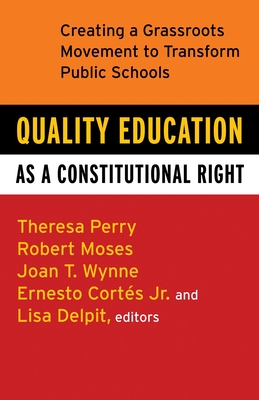 Quality Education as a Constitutional Right
Creating a Grassroots Movement to Transform Public Schools
Beacon Press (MA), Paperback, 9780807032824, 192pp.
Publication Date: August 1, 2010
* Individual store prices may vary.
Buy Now
or
Shop Local
Enter your zip code below to purchase from an indie close to you.
Description
In 2005, famed civil rights leader and education activist Robert Moses invited one hundred prominent African American and Latino intellectuals and activists to meet to discuss a proposal for a campaign to guarantee a quality education for all children as a constitutional right—a movement that would "transform current approaches to educational inequity, all of which have failed miserably to yield results for our children." The response was passionate, and the meeting launched a movement.
 
This book—emerging directly from that effort—reports on what has happened since and calls for a new scale of organizing, legal initiatives, and public definitions of what a quality education is. Essays include
 
·  Robert Moses's historically rooted call for citizens, especially young people, to make the demand for quality education
 
·  Ernesto Cortés's view from decades of work organizing Latino communities in Texas
 
·  Charles Payne's interview with students from the Baltimore Algebra Project, who organized to make historic demands on their district
 
·  Legal scholar Imani Perry's nuanced analysis of the prospects of making a case for quality education as a right guaranteed by the Constitution
 
·  Perspectives from scholars Lisa Delpit and Joan T. Wynne, and by teachers Alicia Caroll and Kim Parker, who provide examples of what quality education is, describing its goal, and how to guide practice in the meantime 
About the Author
Theresa Perry is a professor at Simmons College and coauthor of Young, Gifted, and Black.



Joan T. Wynne, a former Professor at Morehouse College and Georgia State University is now a Professor at Florida State University where she is also Associate Director of the Center for Urban Education & Innovation.
Praise For Quality Education as a Constitutional Right…
"Quality Education is much more than an anthology—it is a practical and theoretical foundation for a vital national conversation about what we want for our country and our youth, and how we can get it."—Harvard Educational Review

"Quality Education as a Constitutional Right offers a provocative look at the continued disconnect between the rhetoric of reform and the facts of the real world…we hear the heartfelt voices of reformers and advocates as well as of young people in underserved communities…The lessons are fresh and compelling and the examples inspired."—New England Journal of Higher Education

"Educators and school administrators will appreciate the perspectives and passionate rhetoric evident throughout this collection."—Library Journal

"This is a wonderful, energizing tour of the landscape of the struggle for what is truly the new civil rights issue of our times: access to a high-quality public education. To change the nation's direction will require, as this book argues, a coalition of organizers, young people, legal and educational scholars, teachers, and ordinary citizens. No other democracy in the world allows the inequities that our society allows, inequities that disproportionately affect African Americans, Latinos, and the poor. This is a blueprint, from some of our most visionary leaders in education, for a national movement to create a revolution in the way we think about schools and a map for a new American future. A crucial book."—Linda Darling-Hammond, professor of education, Stanford University, author of The Flat World and Education: How America's Commitment to Equity Will Determine Our Future

"Moses takes us on a journey that kept me asking the question, When...If not now?...It is a must read for anyone who teaches in urban and under resourced schools as well as for anyone committed to the centuries old battle for justice.  I highly recommend it."—Boston Union Teacher