Tweet Land of Liberty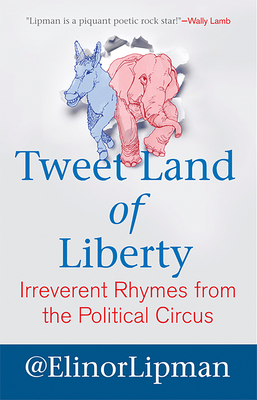 Tweet Land of Liberty
Irreverent Rhymes from the Political Circus
Beacon Press (MA), Paperback, 9780807042434, 107pp.
Publication Date: August 28, 2012
* Individual store prices may vary.
Buy at Local Store
Enter your zip code below to purchase from an indie close to you.
or
Not Currently Available for Direct Purchase
Description
Elinor Lipman (@elinorlipman) chronicles the 2012 election season with a poem a day—all in 140 characters or less.
About the Author
Elinor Lipmanis the author of nine novels, including "The Inn at Lake Devine," " Then She Found Me," and, most recently, "The Family Man." Follow her on Twitter: @elinorlipman.
Praise For Tweet Land of Liberty…
"First I laughed my way through Elinor Lipman's book of political tweets. Then I put my ear to the ground and listened to Molly Ivins guffawing from the grave. Lipman is a piquant poetic rock star! " —Wally Lamb

"This year, has there any better way to revel in the political process than to pour a cup of coffee, log into Twitter, and read one of Elinor Lipman's clever, catchy tweets about the race for the presidency? With humor, wit, and no small share of brilliance, Lipman has cataloged the 2012 election in delectable sound bytes that manage to capture what we're all secretly thinking—in rhyme, and in less than 140 characters." —Jodi Picoult, New York Times bestselling author of Lone Wolf and Sing You Home

"If brevity be The soul of wit/ Then Elinor has A surefire hit." —Alex Beam

"Devilishly and deliciously witty. We could all use a laugh a day and Elinor Lipman has given me that." —Judy Blume

"It's nice to see that Lipman's wit has escaped the hell of Twitter and collected itself in a book." —Jonathan Franzen, author of Freedom

"A devotion of fearless, sassy, sublime insights, that should be carried into the voting booth of our daily lives—each poem read again and again—before any lever is pulled." —Nikky Finney, winner of the 2011 National Book Award for Poetry

"So it has come to this! Of thee I zing. I love it." —Lois Lowry

"The only sane, smart and witty thing to come out of the Republican primaries." —Stephen McCauley

"Jon Stewart in 140 characters -- and in the morning. What could be better?" —Stacy Schiff

"Winsome, witty and winning! I don't know how she does it!! " —Anita Shreve

"Elinor Lipman tweets like a nightingale with an eagle eye." —Cathleen Schine

"Dorothy Parker, Ogden Nash, Calvin Trillin, and Elinor Lipman!!" —Mameve Medwed

"Elinor Lipman is to tweets what Shakespeare is to sonnets." —Firoozeh Dumas

"There once was a Lipman on Twitter, who made every liberal titter." —Michael Lowenthal

"I'm beset with Lipmania."—Henry Alford

"Wise and sassy and too fun to miss!"—Jill McCorkle

"The best-kept promise of the campaign season,"—Ron Charles, Washington Post