Let the Students Speak!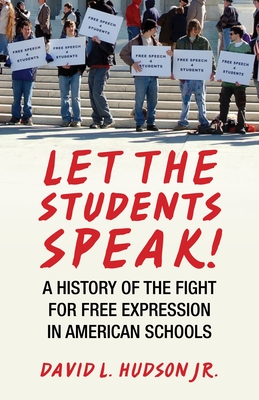 Let the Students Speak!
A History of the Fight for Free Expression in American Schools
Beacon Press (MA), Paperback, 9780807044544, 195pp.
Publication Date: August 16, 2011
* Individual store prices may vary.
Buy at Local Store
Enter your zip code below to purchase from an indie close to you.
or
Not Currently Available for Direct Purchase
Description
From a trusted scholar and powerful story teller, an accessible and lively history of free speech, for and about students.

Let the Students Speak! details the rich history and growth of the First Amendment in public schools, from the early nineteenth-century's failed student free-expression claims to the development of protection for students by the U.S. Supreme Court. David Hudson brings this history vividly alive by drawing from interviews with key student litigants in famous cases, including John Tinker of Tinker v. Des Moines Independent School District and Joe Frederick of the "Bong Hits 4 Jesus" case, Morse v. Frederick. He goes on to discuss the raging free-speech controversies in public schools today, including dress codes and uniforms, cyberbullying, and the regulation of any violent-themed expression in a post-Columbine and Virginia Tech environment. This book should be required reading for students, teachers, and school administrators alike.
About the Author
David L. Hudson, Jr. is a First Amendment Scholar with the First Amendment Center at Vanderbilt University. He teaches at Vanderbilt Law School and Nashville School of Law. His articles have been published in the National Law Journal, ABA Journal, and Tennessee Bar Journal. He is a member of the First Amendment Lawyers Association and a graduate of Duke and Vanderbilt Law School.
Praise For Let the Students Speak!…
"The lack of respect for student rights by overzealous school administrators is clearly evident in Let the Students Speak. This book is a must-read for free speech enthusiasts, especially when it comes to our future generations."—Independent Register 

"This is an extraordinarily valuable book on the history of free speech in US schools."—CHOICE

"An interesting and accessible read for upper high school and beyond, the book will appeal to educators, high school students, and parents."—Library Journal

"Skillfully traces the threads of court opinion and student challenges that have shaped our understanding of students' freedom to express themselves. Young readers with an interest in law will find Hudson's book quite readable…"—VOYA (Voice of Youth Advocates)

"David Hudson's Let the Students Speak reflects a masterful blending of law and public policy as it focuses on key issues of free speech in the secondary school context. It should prove as useful and timely for First Amendment lawyers as for school administrators and the broader community, and of course for students and the groups in which they engage. Building on an impressive understanding of where the law has taken us in this field, Hudson wisely warns of the regrettable impact of government censorship upon far too many outspoken students and the messages they seek to convey."-Robert M. O'Neil, Director of the Thomas Jefferson Center for the Protection of Free Expression

"We too often forget that students are also citizens, with the full protection of the Bill of Rights. David Hudson's authoritative history chronicles the key battles to protect students' rights, detailing pivotal decisions and controversies in a succinct and compelling manner."—Ken Paulson, President and CEO, First Amendment Center
 
"In Let the Students Speak!, David Hudson brings to life the riveting stories of Pearl Pugsley, Lillian and William Gobitis, Mary Beth and John Tinker and many other young people who challenged schools' efforts to punish their speech. Because it explains - in very accessible terms - the human and legal implications of these cases, this important and timely work is an extremely valuable read for anyone interested in the First Amendment, or in education matters generally."—Helen Norton, Associate Professor, University of Colorado School of Law
 
"I have profitably read many of David Hudson's books, and this is among the best. The book is an erudite but engaging study of key cases that involve student speech and speech-related conduct that will prove especially fascinating to high school and college students. The book would make a wonderful supplement to classes studying the First Amendment and an excellent resource for teachers and school administrators seeking to grasp the nuances of student speech."—Dr. John R. Vile, Professor of Political Science and Dean, University Honors College at Middle Tennessee University, author of Essential Supreme Court Decisions
 
"Through his work as a scholar with the First Amendment Center, David L. Hudson, Jr. has intimately familiarized himself not only with leading U.S. Supreme Court cases, many of whose participants he has personally interviewed, relative to student speech, but also with some of their obscure state and lower federal court precedents, all of which he skillfully weaves into his narrative. Although clearly aware of the importance of student speech, Hudson also highlights the dangers of "true threats" and "substantial disruption" that such speech can sometimes pose. There is no better book on student speech."—Dr. John R. Vile, Professor of Political Science and Dean, University Honors College at Middle Tennessee University, author of Essential Supreme Court Decisions