The Sounds of Slavery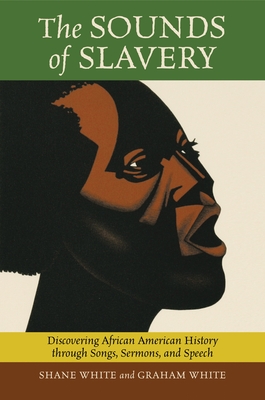 The Sounds of Slavery
Discovering African American History Through Songs, Sermons, and Speech
Beacon Press (MA), Paperback, 9780807050279, 264pp.
Publication Date: April 1, 2006
* Individual store prices may vary.
Buy at Local Store
Enter your zip code below to purchase from an indie close to you.
or
Buy Here
Description
This exploration of African American slavery through sound is a groundbreaking way of understanding both slave culture and American history

"A work of great originality and insight."
-Ira Berlin 

"Shane White and Graham White's book is a joy."
-Branford Marsalis

"A fascinating book . . . that brings to life the historical soundscape of 18th- and 19th-century African Americans at work, play, rest, and prayer . . . This remarkable achievement demands a place in every collection on African American and U.S. history and folklife. Highly recommended."
-Library Journal

"The authors have undertaken the difficult task of bringing to contemporary readers the sounds of American slave culture . . . [giving] vibrancy and texture to a complex history that has been long neglected."
-Booklist

"The book's strongest point is its attention to detail . . . [it] will not only be valuable to young scholars, but . . . to young performers and composers, especially with the explosion of interest in 'roots music,' looking for new sources of original and searing music."
-Ran Blake, Christian Science Monitor

"A lyrical and original treatment of the musical and spoken culture of American slaves. This book is moving testimony to how scholarship can penetrate the transcendent spirit once considered exotic or unknowable, how historians can trace social survival to the human voice in slavery's heart of darkness."
-David W. Blight, professor of history, Yale University, and author of Race and Reunion: The Civil War in American Memory

"A seminal study of a neglected aspect of Southern and African-American culture . . . and the approach to the topic is both creative and resourceful. The book is highly recommended."
-Michael Russert, The Multicultural Review

Shane White and Graham White, who are not related, are professor and honorary associate, respectively, in the history department at the University of Sydney, Australia. They are the coauthors of Stylin': African American Expressive Culture, from Its Beginning to the Zoot Suit.
About the Author
SHANE WHITE is the Challis Professor of History and an Australian Professorial Fellow in the History Department at the University of Sydney specializing in African-American history. He has authored or co-authored five books, including "Playing the Numbers", and collaborated in the construction of the website Digital Harlem. Each project has won at least one important prize for excellence from institutions as varied as the American Historical Association and the American Library Association. He lives in Sydney, Australia.

Graham White is a professor of political science at the University of Toronto.


Praise For The Sounds of Slavery…
A work of great originality and insight.--Ira Berlin

" Shane White and Graham White's book is a joy."--Branford Marsalis

"A fascinating book . . . that brings to life the historical soundscape of 18th- and 19th-century African Americans at work, play, rest, and prayer . . . This remarkable achievement demands a place in every collection on African American and U.S. history and folklife. Highly recommended."--Library Journal

"The authors have undertaken the difficult task of bringing to contemporary readers the sounds of American slave culture . . . [giving] vibrancy and texture to a complex history that has been long neglected."--Booklist

"The book's strongest point is its attention to detail . . . [it] will not only be valuable to young scholars, but . . . to young performers and composers, especially with the explosion of interest in 'roots music,' looking for new sources of original and searing music."--Ran Blake, Christian Science Monitor

"A lyrical and original treatment of the musical and spoken culture of American slaves. This book is moving testimony to how scholarship can penetrate the transcendent spirit once considered exotic or unknowable, how historians can trace social survival to the human voice in slavery's heart of darkness."--David W. Blight, professor of history, Yale University, and author of Race and Reunion: The Civil War in American Memory

"A seminal study of a neglected aspect of Southern and African-American culture . . . and the approach to the topic is both creative and resourceful. The book is highly recommended."--Michael Russert, The Multicultural Review