Queer (In)Justice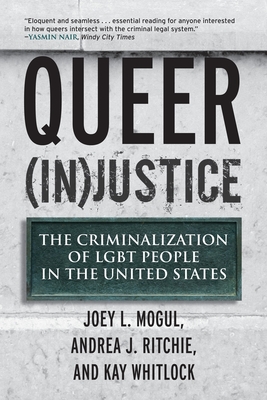 Queer (In)Justice
The Criminalization of LGBT People in the United States
Beacon Press (MA), Paperback, 9780807051153, 216pp.
Publication Date: January 24, 2012
* Individual store prices may vary.
Buy Now
or
Shop Local
Enter your zip code below to purchase from an indie close to you.
Description
Winner of the 2011 PASS (Prevention for a Safer Society) Award from the National Council on Crime and Delinquency
A groundbreaking work that turns a queer eye on the criminal legal system, "Queer (In)Justice" is a searing examination of queer experiences as suspects, defendants, prisoners, and survivors of crime. The authors unpack queer criminal archetypes like gleeful gay killers, lethal lesbians, disease spreaders, and deceptive gender benders to illustrate the punishment of queer expression, regardless of whether a crime was ever committed. Tracing stories from the streets to the bench to behind prison bars, they prove that the policing of sex and gender both bolsters and reinforces racial and gender inequalities.
Praise For Queer (In)Justice…
"Eloquent and seamless . . . essential reading for anyone interested in how queers intersect with the criminal legal system." —Yasmin Nair, Windy City Times

"Queer (In)Justice ought to be force-fed to the staffs and boards of directors of every national and state gay organization in the hope that it might open their eyes to a reality they too often deliberately ignore. . . . It's that important."—Doug Ireland, GayCity News
 
"A vivid account of how the law in the United States has his­torically treated LGBT people as criminals and, startlingly, the degree to which for­mal decriminalization of gay sex has failed to remove the criminal taint from queer sexuality and expression . . . Mandatory reading."—Lesbian/Gay Law Notes

"Re-evaluates the penal system through a lavender lens...the book sheds light on serious flaws in the legal system, as well as homophobia and bigotry among many in law enforcement."—Philadelphia City Paper

"Queer (In)Justice is the book we have been waiting for. By examining the policing of gender, it forces us to reexamine our complicity in the police state when we are fighting for hate crime legislation but should be arguing for decriminalization. It calls us to develop a more radical analysis that understands that ending state violence must be central to a transformative queer politics."—Andrea Smith, cofounder of INCITE! Women of Color Against Violence and author of Conquest: Sexual Violence and American Indian Genocide

"If you think the struggle for LGBT equality is only about marriage and the military, Queer (In)Justice will be a revelation. In lucid prose, it tells stories of criminalization, victimization, and discrimination, while illuminating strategies for progressive change. A must-read for anyone who cares about justice."—Ruthann Robson, author of Lesbian (Out)Law and Sappho Goes to Law School, professor of law, City University of New York School of Law
 
"A cogent and urgent call to move beyond single issue politics and to take a stand against the often brutal punishment of 'criminalized queers.' The authors lay out a framework for a multi-issue social justice agenda that links LGBT activists to feminists, prison abolitionists, and immigrant rights and homeless advocates. This powerful critique should profoundly transform the ways we seek to end violence and fight for our freedom."—Julia Sudbury, editor of Global Lockdown: Race, Gender, and the Prison-Industrial Complex, professor of ethnic studies, Mills College
 
"Queer (In)Justice is an urgently needed and essential resource for activists and scholars. Accessible and stirring, it clearly and concisely exposes how criminalization is a central issue facing queer and trans politics today. Tracing the historical and contemporary implications of mass imprisonment as a central vector of racial and gender violence this book is a vital tool toward building a movement that challenges the policing of our very identities."—Dean Spade, founder of the Sylvia Rivera Law Project, assistant professor of law, Seattle University School of Law
 
"With remarkable passion Queer (In)Justice makes visible the very serious consequences of the prison industrial complex on the lives of LGBT people. It's an important scholarly critique, an urgent call to action, and a vivid historical account of how the policing of gender and sexuality are intricately linked to race, class, and power."—Beth Ritchie, director, Institute for Research on Race and Public Policy, University of Illinois at Chicago

"[Queer (In)justice] thoroughly explores and clearly articulates the multiple, overlapping, and mutually reinforcing way that heteronormative legality is used to marginalize and control other oppressed groups, especially the poor, people of color and women."--Nancy Polikoff, Beyond (Straight and Gay) Marriage

"VERDICT: Illuminating reading for criminal justice scholars and educated readers with an interest in gay rights."—Library Journal

"At times devastating, provocative, explicit, and horrifying, this book will make you deeply sad, deeply angry, and more fully aware of how far we really are from full equality for sexual minorities."—Elevate Difference  

"An eye-opener for any reader accepting the myth of equal justice for all."—Book Marks

"[Q]ueer (In)Justice is much more than a litany of horror stories... It is a passionate and powerful weaving of the stories, the history and all its meaning."—Fire Dog Lake

"What Queer (In)Justice provides is a very well researched and written, but usually missing from the conversation, "criminal legal system" context for understanding the LGBT equality movement. Or better, movements, plural. In part, what the authors address is how the civil rights efforts are splintered…The authors use an alarming wealth of stories about how real queer people experience our "criminal legal system."…One obvious, but powerful, tool of the Powers That Be is to divide us. Queer (In)Justice could be one powerful resource to help us find some "togetherness."—TaylorMarsh.com 

"Queer (In)justice is one of the most important books about the struggle for LGBT rights that we've seen in decades. It adds a critical point of discussion, advocating for working beyond the standard 'marriage and military service' framework and instead fighting the entire system of institutional wrongs historically perpetrated against all LGBTs."—Daily Kos 

"Queer (In)justice is an incredibly eye-opening take on the complexity of factors, including race and class, that needs to be considered in a progressive strategy for obtaining justice…to miss out on this book would be to turn your back to reality."—James Viloria, Gay Persons of Color

"The strength of Queer (In)Justice is that, though it focuses on the experiences of lesbian, gay, bisexual, transgender and other queer people in its analysis, it never isolates these experiences from the surrounding social facts of race, class, nationality, immigration status and so on."—Kristian Williams, In These Times