Does Your House Have Lions?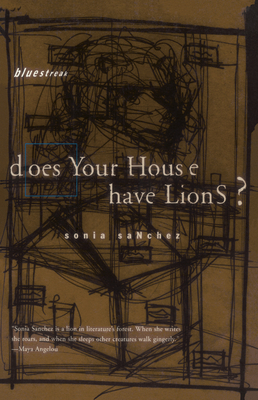 Does Your House Have Lions?
Beacon Press (MA), Paperback, 9780807068311, 80pp.
Publication Date: January 28, 1998
* Individual store prices may vary.
Buy Now
or
Shop Local
Enter your zip code below to purchase from an indie close to you.
Description
Nominated for the 1998 National Book Critics Circle Award for Poetry
Recommended Reading from Emerge
An epic poem on kin estranged, the death of a brother from AIDS, and the possibility of reconciliation and love in the face of loss.
Praise For Does Your House Have Lions?…
One of our more overlooked older poets, Sanchez writes concise, wounded poems that work on the page as well as aloud. A tragedy of sorts written in terse terza rima, this short narrative poem mourns the poet's half-brother's death from AIDS. Borrowing techniques from Greek tragedy and African ritual storytelling and song, it has a section for each speaker: sister, brother, father, and chorus of ancestors. Permeated with the pain of abandonment—the abandoner's, as well as the victim's—the poem is a road map for the disintegrating family: 'this father always a guest/ never a permanent resident of my veins/ always a traveler to other terrains.' It fades into disembodied voices at the end, the brother's death being one terminus of the ancestral line. But it is the ancestors who offer strength and permanence because they have turned suffering into a stoical wisdom. Interesting and moving. —Library Journal

"Well-versed jazz fans will recognize the title of Sanchez's book-length poem as something sax and flute virtuoso Rahsaan Roland Kirk said. That musical association is appropriate: this is a musical poem, cast in the voices of a woman, her half-brother, his mother, their father, and, in the last of its four sections, ancestors, including distant African forebears. The story the poem's seven-line stanzas (rhymed ababbcc and appearing one per page) unfold is one of wayward men and familially faithful women. Father cut out when the son was little, and the son, when a teenager, left to pursue a faster life in New York City. But the son, who, we gather from hints in the imagery, is gay, has become mortally ill—with AIDS, further images hint, though neither sickness nor sexuality is named. His crisis brings the family voices together, and Sanchez's brilliant imagery, more evocative with every reading, makes them resound with life and emotion. The last stanza, in which ancestral voices call the son's spirit home to Africa, is designated 'To be sung.' The whole poem sings and would make a splendid theatrical performance—with music." —Booklist