A Mind of Winter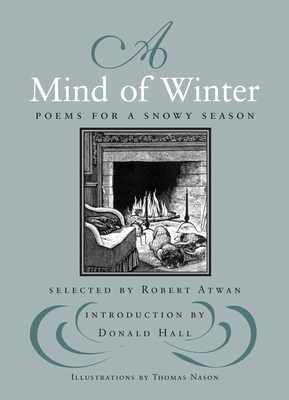 A Mind of Winter
Poems for a Snowy Season
Beacon Press (MA), Paperback, 9780807069202, 84pp.
Publication Date: October 25, 2011
* Individual store prices may vary.
Shop Local
Enter your zip code below to find indies closest to you.
Description
There is no better time to curl up in a comfortable chair and read than in wintertime. And winter has been a powerful muse for many of America's best loved poets. The elegant patterns of frost on a windowpane, a child on a sled, a lone fox foraging for food on a desolate landscape, the comic smile of a snowman, the sobering sight of an unkempt man huddled against the cold, or a pair of red slippers glimpsed in a shop window in a gray, windy sleet have all provided inspiration for poems that sustain and renew us.

A Mind of Winter collects thirty-two of the most moving poems on the experience of winter. Illustrated throughout with elegant period woodcuts by Thomas Nason, the poems range from the great classics-James Russell Lowell's "The First Snow Fall" and John Greenleaf Whittier's "Snow-Bound"-to the more contemporary, free form, and diverse-Rafael Campo's "Begging for Change in Winter" and Gertrude Schnackenberg's "The Paperweight."

While all the poets focus on the experience of winter as their theme, each provides us with an illuminating glimpse of winter's subtle forms. Marge Piercy is grateful on New Year's Day for all she has been given; Mary Oliver observes the cruel Darwinian reality of nature; Peter Davison muses on the irony of a "snowless New England"; and Robert Frost is surprised by joy while out for a walk on a winter's day. Each reminds us, in the words of Wallace Stevens, that "one must have a mind of winter/to regard the frost and the boughs/of the pine-trees crusted with snow . . ."

Contributors include:Rosanna Warren, Emily Dickinson, Richard Wilbur, Angelina Weld Grimké, Amy Lowell, Charles Simic, Peter Davison, Mary Oliver, Sylvia Plath, Marge Piercy, James Merrill, and Maxine Kumin.
About the Author


Donald E. Hall is Jackson Family Distinguished Chair in the Department of English at West Virginia University and the author of Fixing Patriarchy: Feminism and Mid-Victorian Male Novelists, also from NYU Press.

Since the inception of THE BEST AMERICAN ESSAYS in 1986 as a trade book title, Robert Atwan has been series editor. He has published reviews and essays in a range of periodicals and edited many other literature anthologies. Atwan most recently edited two collections of poetry with a biblical theme: CHAPTERS INTO VERSE by Oxford University Press and DIVINE INSPIRATION by Oxford University Press.