Heretic's Heart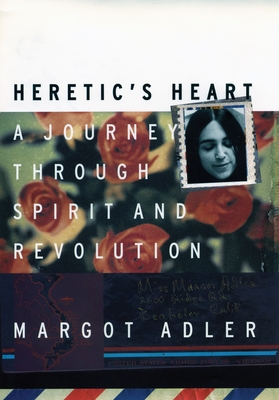 Heretic's Heart
A Journey Through Spirit & Revolution
Beacon Press (MA), Paperback, 9780807070994, 309pp.
Publication Date: September 15, 1997
* Individual store prices may vary.
Buy Now
or
Shop Local
Enter your zip code below to purchase from an indie close to you.
Description
The renowned NPR correspondent offers a fresh perspective of the sixties, in a candid memoir of civil-rights work, the Free Speech Movement, and her correspondence with a young American soldier in Vietnam.
Praise For Heretic's Heart…
With the curiosity of a journalist, the heart of a revolutionary, and the soul of an American woman, Margot Adler has written a timeless and timely account of her journey through the sixties.-Gloria Steinem

The renowned NPR correspondent offers a fresh perspective of the sixties, in a candid memoir of civil-rights work, the Free Speech Movement, and her correspondence with a young American soldier in Vietnam.

"Margot Adler has written an unsentimental version of The Way We Were in the 1960s, and it reminds one of just how dangerous and painful honesty can be. Disarming, but still dangerous. I think all of us who were active in those crowded years have a different version of the sixties, but mine, like Adler's, was not about sex, drugs or rock 'n' roll; it was about the civil-rights movement, the antiwar movement, and a genuine search for a better way to live together."-Molly Ivins

"In Heretic's Heart, Margot Adler has truly brought the sixties to life again, with all the hopes, optimism and uncertainty of the time tempered by the wisdom of thirty years' further life experience. . . . It made me take a long look at my own history and choices-and for those who are too young to remember the sixties, it will tell you a truth about the times that you won't find in history books. I loved the book!"-Starhawk

"It's an honest and human attempt to return memory to us. It should be honored for restoring history and pointing the way."-Tom Engelhardt, Philadelphia Inquirer,/i>

"Adler's generous, reflective memoir is enriched by a personal humility and an intellectual appreciation for social context."-Valerie Miner, Chicago Tribune

"[A] modest yet unsparing memoir . . . about how a wondering, doubting, searching temperament found safe passage through a minefield of absolutes and extremes."-Annie Gottlieb, The Nation

"The only thing more impressive than Margot Adler's honesty is the overflowing archive she draws on to tell her story. . . . We should be grateful for this literary packrat who tells it as it really was."-Kimberly B. Marlowe, Seattle Times