Singular Intimacies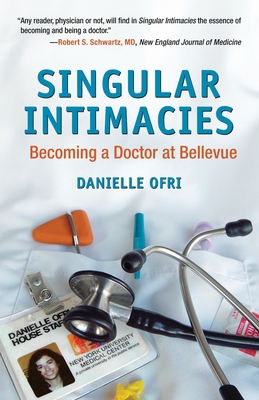 Singular Intimacies
Becoming a Doctor at Bellevue
Beacon Press (MA), Paperback, 9780807072516, 246pp.
Publication Date: April 2009
* Individual store prices may vary.
Buy Now
or
Shop Local
Enter your zip code below to purchase from an indie close to you.
Description
"Singular Intimacies" is the story of becoming a doctor by immersion at New York's Bellevue Hospital, the oldest public hospital in the country. When Danielle Ofri first enters the doors as a medical student, she is immediately plunged into the teeming world of urban medicine. It is here that Dr. Ofri develops a profound instinct for healing and, above all, learns to navigate the tangled vulnerabilities of doctor and patient.
About the Author
Danielle Ofri, MD, PhD, DLitt (Hon), is an attending physician in the medical clinic at Bellevue Hospital, and Assistant Professor of Medicine at New York University School of Medicine. She divides her time between seeing patients, teaching medical students and residents, editing and writing. Dr. Ofri is the Editor-in-Chief and co-founder of the Bellevue Literary Review.
Praise For Singular Intimacies…
What is it like to become a doctor? Danielle Ofri answers with candor and humility and pride. This book should be required reading by anyone contemplating a life in medicine.—Richard Selzer, surgeon and author of Letters to a Young Doctor

"Any reader, physician or not, will find in Singular Intimacies the essence of becoming and being a doctor."—Robert S. Schwartz, M.D., New England Journal of Medicine

"Her vivid and moving prose enriches the mind and turn the heart. We are privileged to journey with her from her days as a student to her emergence as a physician working among those most in need."—Jerome Groopman, author of How Doctors Think

"This is a wonderful book, a true classic medical memoir. Ofri deftly assembles tales to paint an indelible portrait of a great American hospital. I highly recommend it for physicians, would-be doctors, and anyone interested in medicine in all its behind-the-scenes glory."—Sandeep Jauhar, author of Intern: A Doctor's Initiation

"Danielle Ofri is a finely gifted writer, a born storyteller as well as a born physician, and through these fifteen brilliantly written episodes covering the years from studenthood to the end of her medical residency, we get not only a deep sense of the high drama of life and death, which must face anyone working in a great hospital, but also a feeling for the making of a physician's mind and soul."—Oliver Sacks, MD, author of The Man Who Mistook His Wife for a Hat

"Danielle Ofri has so much to say about the remarkable intimacies between doctor and patient, about the bonds and the barriers, and above all about how doctors come to understand their powers and their limitations."—Perri Klass, MD, author of A Not Entirely Benign Procedure