Jimmy's Blues and Other Poems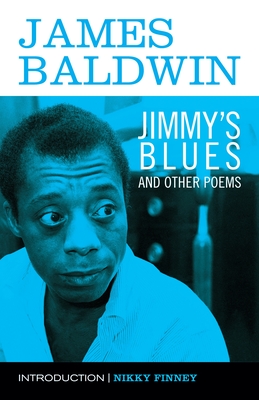 Jimmy's Blues and Other Poems
Beacon Press (MA), Paperback, 9780807084861, 94pp.
Publication Date: April 1, 2014
* Individual store prices may vary.
Buy at Local Store
Enter your zip code below to purchase from an indie close to you.
or
Buy Here
Description
All of the published poetry of James Baldwin, including six significant poems previously only available in a limited edition
During his lifetime (1924-1987), James Baldwin authored seven novels, as well as several plays and essay collections, which were published to wide-spread praise. These books, among them "Notes of a Native Son," " The Fire Next Time," "Giovanni's Room," and "Go Tell It on the Mountain," ""brought him well-deserved acclaim as a public intellectual and admiration as a writer. However, Baldwin's earliest writing was in poetic form, and Baldwin considered himself a poet throughout his lifetime. Nonetheless, his single book of poetry, "Jimmy's Blues," never achieved the popularity of his novels and nonfiction, and is the one and only book to fall out of print.
This new collection presents James Baldwin the poet, including all nineteen poems from "Jimmy's Blues," as well as all the poems from a limited-edition volume called "Gypsy," of which only 325 copies were ever printed and which was in production at the time of his death. Known for his relentless honesty and startlingly prophetic insights on issues of race, gender, class, and poverty, Baldwin is just as enlightening and bold in his poetry as in his famous novels and essays. The poems range from the extended dramatic narratives of "Staggerlee wonders" and "Gypsy" to the lyrical beauty of "Some days," which has been set to music and interpreted by such acclaimed artists as Audra McDonald. Nikky Finney's introductory essay reveals the importance, relevance, and rich rewards of these little-known works. Baldwin's many devotees will find much to celebrate in these pages.
About the Author
James Baldwin (1924 1987) was educated in New York. His first novel, "Go Tell It on the Mountain", received excellent reviews and was immediately recognized as establishing a profound and permanent new voice in American letters. The appearance of "The Fire Next Time" in 1963, just as the civil rights movement was exploding across the American South, galvanized the nation and continues to reverberate as perhaps the most prophetic and defining statement ever written of the continuing costs of Americans refusal to face their own history. It became a national bestseller, and Baldwin was featured on the cover of "Time". The next year, he was made a member of the National Institute of Arts and Letters and collaborated with the photographer Richard Avedon on "Nothing Personal", a series of portraits of America intended as a eulogy for the slain Medger Evers. His other collaborations include "A Rap on Race" with Margaret Mead and "A Dialogue" with the poet-activist Nikki Giovanni. He also adapted Alex Haley s "The Autobiography of Malcolm X" into "One Day When I Was Lost". He was made a commander of the French Legion of Honor a year before his death, one honor among many he achieved in his life.

Nikky Finney is the John H. Bennett, Jr. Chair in Southern Letters and Literature at the University of South Carolina and is the author of four books of poetry--Head Off & Split, winner of the 2011 National Book Award for poetry; The World Is Round; Rice; On Wings Made of Gauze--the and novella Heartwood.
Praise For Jimmy's Blues and Other Poems…
"...Poetry was the current that powered his novels, essays, and plays…blazing, embracing collection...as potent and significant now as then. ...Baldwin writes perceptively and poignantly... His humor is lashing and sly, his sexiness bold and lithe. Baldwin is thunderous and crooning, rueful and cutting, prayerful and ferocious, questioning and questing."
—Booklist

"I am completely indebted to Jimmy Baldwin's prose. It liberated me as a writer. These poems overwhelm without competing with his prose and I am grateful to have this collection."
—Toni Morrison

"These poems are morning stars to be inhaled everyday as we strip search our eyes for new memory. Thank you Brother Jimmy for the breath of your poems."
—Sonia Sanchez

"James Baldwin was born for truth. It called upon him to tell it on the mountains, to preach it in Harlem, to sing it on the Left Bank in Paris. His honesty and courage would lead him to see truth and to write truth in poetry, drama, fiction and essay. He was a giant."
—Maya Angelou