Early Spring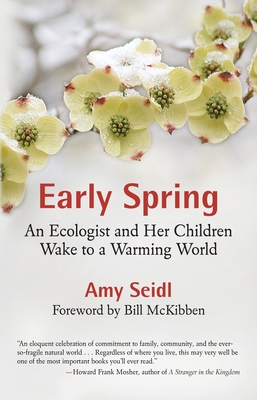 Early Spring
An Ecologist and Her Children Wake to a Warming World
Beacon Press (MA), Paperback, 9780807085974, 172pp.
Publication Date: March 1, 2010
* Individual store prices may vary.
Buy at Local Store
Enter your zip code below to purchase from an indie close to you.
or
Buy Here
Description
The human heart is the most sensitive instrument, and that is why Amy Seidl's marvelous book is so important, a new kind of contribution to the rapidly growing library on global warming.—Bill McKibben, from the foreword

Robert Frost wrote about nature and rural life in New England, and Norman Rockwell painted classic scenes of farmhouses and American traditional life, images reproduced as symbolizing an idealized history born of New England sights. But New England, a region whose culture is rooted in its four distinct seasons, is changing along with its climate.

In Early Spring, ecologist and mother Amy Seidl examines climate change at a personal level through her own family's walks in the woods, work in their garden, and observations of local wildlife in the quintessential America of small-town New England, deep in the Green Mountains of Vermont. 

Seidl's testimony, grounded in the science of ecology and evolutionary biology but written with beauty and emotion, helps us realize that a natural upheaval from climate change has already begun: spring flowers blossom before pollinators arrive, ponds no longer freeze, and animals begin migrations at unexpected times. Increasingly, the media report on melting ice caps and drowning polar bears, but Seidl brings the message of global warming much closer to home by considering how climate change has altered her local experience, and the traditions and lifestyles of her neighbors, from syrup producers to apple farmers. In Vermont, she finds residents using nineteenth-century practices to deal with perhaps the most destructive twenty-first-century phenomenon. 

Seidl's poignant writing and scientific observations will cause readers to look at their local climate anew, and consider how they and their neighbors have adjusted to the reality of global warming.
About the Author
Amy Seidl has taught in the environmental studies programs at Middlebury College and the University of Vermont. She is currently a research scholar at Middlebury and associate director of the LivingFuture Foundation. She lives with her family in Huntington, Vermont, in a solar- and wind-powered home.

Bill McKibben is American author of a dozen books about the environment, beginning with The End of Nature in 1989, which is regarded as the first book for a general audience on climate change. He is a founder of the grassroots climate campaign 350.org, which has coordinated 15,000 rallies in 189 countries since 2009. Time Magazine called him "the planet's best green journalist," and the Boston Globe said in 2010 that he was "probably the country's most important environmentalist." McKibben is a frequent contributor to various magazines including The New York Times, The Atlantic Monthly, Harper's, Orion Magazine, Mother Jones, The New York Review of Books, Granta, Rolling Stone, and Outside. He is also a board member and contributor to Grist Magazine. McKibben has been awarded Guggenheim and Lyndhurst Fellowships, and won the Lannan Prize for nonfiction writing in 2000. He is a scholar in residence at Middlebury College.
Praise For Early Spring…
An eloquent celebration of commitment to family, community, and the ever-so-fragile natural world . . . Regardless of where you live, this may very well be one of the most important books you'll ever read.—Howard Frank Mosher, author of A Stranger in the Kingdom

"A timely, important book—both troubling and lovely." —John Elder, author of Reading the Mountains of Home

"This is the voice we need to hear now: a biologist mother, with no time for despair, bearing witness to the unraveling of the ecological world within her children's backyard-which is all of our children's backyard. With urgency and grace, Amy Seidl delivers the message I've been listening for."—Sandra Steingraber, PhD, author of Having Faith: An Ecologist's Journey to Motherhood

"Early Spring is brave and eloquent testimony from a reliable witness about the extraordinary changes we face in the very nature of daily life on earth. It reminds us that the human heart and mind have their place in the order of things, too."—James Howard Kunstler, author of The Long Emergency

"With the mind of a scientist and the heart of a mom, Amy Seidl explores the effects of climate chaos on her home-ground. . . . A visionary personal inquiry that remains fixed on promise even in the face of grim and unsettling facts. This is a brave book."—Janisse Ray, author of Ecology of a Cracker Childhood

"Seidl's tender descriptions of her young daughters' encounters with the natural world-skipping rocks, choosing Halloween pumpkins from the garden and 'gorging on the abundance' of cherries picked off the tree-add personal poignancy to a subject 'few can stand to talk about at any length.'"—Publishers Weekly