China Mission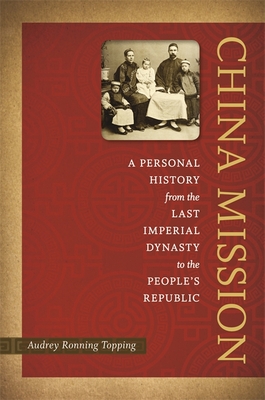 China Mission
A Personal History from the Last Imperial Dynasty to the People's Republic
Louisiana State University Press, Hardcover, 9780807152782, 364pp.
Publication Date: October 7, 2013
* Individual store prices may vary.
Buy at Local Store
Enter your zip code below to purchase from an indie close to you.
or
Buy Here
Description
When the Reverend Halvor Ronning, his sister Thea, and fellow missionary Hannah Rorem set out in 1891 to found a Lutheran mission and school in the interior of China, they could not have foreseen the ways in which that decision would ripple across generations of the Ronning family. Halvor and Hannah would marry, and their son Chester, born in Hubei Province in 1894, would spend over half his life in China as a student, teacher, and a Canadian diplomat. Chester's daughter, Audrey, studied at Nanking University during the Chinese Civil War and later spent decades reporting on the People's Republic of China for the New York Times, Foreign Affairs, and many other publications. "During the last century," Audrey Topping notes, "a member of our family was there for almost every event of importance." China Mission presents a personal history of her family's ties to their adopted home and the momentous events that radically changed one of the most powerful countries in the world.
The Ronnings found Imperial China at the end of the nineteenth century to be a nation on the cusp of change, and they were swept up as both observers and participants in these dramatic events. During their years as missionaries, the Ronnings witnessed the Boxer Uprising in 1898, the subsequent Palace Coup and the Siege of Peking, the death of the last emperor, and the collapse of China's dynasty system. They also endured personal challenges -- famine, births, deaths, and the almost constant threat of attack -- that were countered with songs, celebrations, friendship, and a deep appreciation for the culture of which they had become a part.
Later, Chester Ronning would return to China, as would his daughter Audrey, bringing their family's story to the end of the twentieth century. This extraordinary account, compiled from the diaries, letters, and photographs of three generations, offers modern readers a rare and remarkable look at a world long gone.
About the Author
Topping is an acclaimed photojournalist and author. Her work has appeared in National Geographic, Reader's Digest, Foreign Affairs Magazine, Life and the New York Times Magazine. She is a columnist for The Earth Times.