Junie B. Jones Collection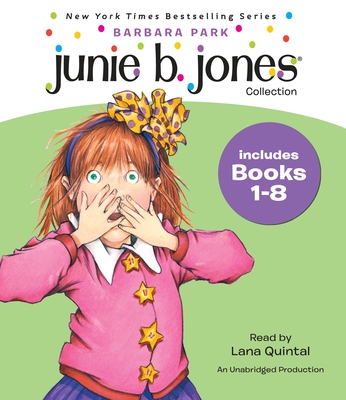 Junie B. Jones Collection
Books 1-8: #1 Stupid Smelly Bus; #2 Monkey Business; #3 Big Fat Mouth; #4 Sneaky Peeky Spyi Ng; #5 Yucky Blucky Fruitcake;
Listening Library (Audio), Compact Disc, 9780807218679, 5pp.
Publication Date: September 23, 2003
* Individual store prices may vary.
Buy at Local Store
Enter your zip code below to purchase from an indie close to you.
or
Buy Here
Description
Junie B. Jones is back on audio with a collection of books that began the well-loved series.

Junie B. Jones and the Stupid Smelly Bus
Remember when it was scary to go to school? 'Cause it was your first day and you didn't know anything. Meet Junie B. Jones, kindergartner. She's so scared of the school bus and the meanies on it that when it's time to go home, she doesn't.

Junie B. Jones and a Little Monkey Business
It's pooey on B-A-B-I-E-S until Junie B. finds out that her new dumb old baby brother is a big fat deal. Her two bestest friends are giving her everything they own just to see him. And guess what else? Maybe she can bring him to school on Pet Day.

Junie B. Jones and Her Big Fat Mouth
Junie B.'s having a rough week. First she got punishment for shooting off her mouth in kindergarten. And now she's in big trouble again! 'Cause Monday is Job Day, and Junie B. told her class that she's got the bestest job of all. Only, what the heck is it?

Junie B. Jones and Some Sneaky Peeky Spying
Junie B. is the bestest spier in the whole world. That's 'cause she has sneaky feet. And her nose doesn't whistle when she breathes. But guess what? Junie B. might be real sneaky. And real peeky. But when she spies on Mrs., she could get into real trouble!

Junie B. Jones and the Yucky Blucky Fruitcake
In this audio, Junie B. wins the Carnival Night Cake Walk and chooses the bestest cake of all. How was she to know it was lethal weapon?

Junie B. Jones and that Meanie Jim's Birthday
Junie B. is NOT invited to Jim's birthday party in this great story.

Junie B. Jones Loves Handsome Warren
Junie B. has to figure out how she can get the handomest guy she's ever seen to love her.

Juine B. Jones Has a Monster Under Her Bed
Junie B. worries that Paulie Allen Puffer is right and she really does have monster under her bed.
About the Author
Korean-American authorSamuel Park was born and raised in Sao Paulo, Brazil until the age of fourteen. His novel "This Burns My Heart" was chosen as a ?Best Book of 2011? by Amazon, "Kirkus Reviews", and "BookPage". It was named one of NPR's ?Freshest Reads? and "Today"'s ?Favorite Things, ? and has been translated into four languages. He is an assistant professor of English at Columbia College and lives in Chicago. Visit Samuel Park at SamuelPark.com.
Barbara Park is one of today's funniest and most popular authors for middle-graders. Her many successful novels include "Mick Harte Was Here, " which received fifteen state Children's Choice awards, including the Texas Bluebonnet Award; "The Kid in the Red Jacket;" and "Skinnybones." She is also the best-selling author of the Junie B. Jones books, and "Psssst...It's Me, the Bogeyman, " a picture book.
Ms. Park lives in Scottsdale, Arizona, with her husband, Richard.
Quintal has appeared on stage in Grease, and in the off Broadway production of The Wind and the Willows. Her film credits include The Eden Myth and The Soul of Wit and on television she has appeared in All My Children.