Harry Potter and the Order of the Phoenix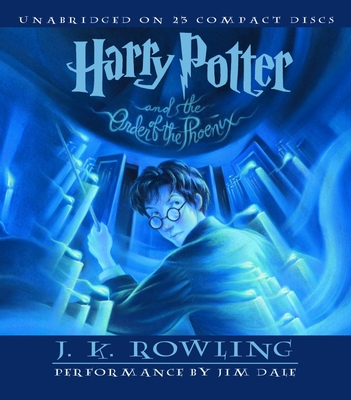 Harry Potter and the Order of the Phoenix
Listening Library (Audio), Compact Disc, 9780807220290, 23pp.
Publication Date: June 21, 2003
* Individual store prices may vary.
Shop Local
Enter your zip code below to find indies closest to you.
Description
There is a door at the end of a silent corridor. And it's haunting Harry Potter's dreams. Why else would he be waking in the middle of the night, screaming in terror?
Here are just a few things on Harry's mind:
A Defense Against the Dark Arts teacher with a personality like poisoned honey.
A venomous, disgruntled house-elf
Ron as keeper of the Gryffindor Quidditch team
The looming terror of the end-of-term Ordinary Wizarding Level exams
. . . and of course, the growing threat of He-Who-Must-Not-Be-Named. In the richest installment yet of J. K. Rowling's seven-part story, Harry Potter is faced with the unreliability of the very government of the magical world and the impotence of the authorities at Hogwarts.
Despite this (or perhaps because of it), he finds depth and strength in his friends, beyond what even he knew, boundless loyalty; and unbearable sacrifice.
Though thick runs the plot, listeners will race through these tapes and leave Hogwarts, like Harry, wishing only for the next train back.
About the Author
J.K. Rowling was born in England in 1965. She always loved writing more than anything else, and in 1996, one year after finishing it, Bloomsbury bought her first novel, "Harry Potter and the Sorcerer's Stone". Millions of copies later the rest is Hogwart's history.

As "Best Children's Narrator," Jim Dale has won a record seven Audie Awards, including "Audio Book of the Year 2004," a Grammy(r) Award and four Grammy(r) nominations. As an actor he has won a Tony(r) Award, five Tony(r) nominations, four Drama Desk Awards, and four Outer Critics Awards. As a lyric writer, he received an Oscar(r) nomination for writing the song "Georgy Girl."