Health Care Reform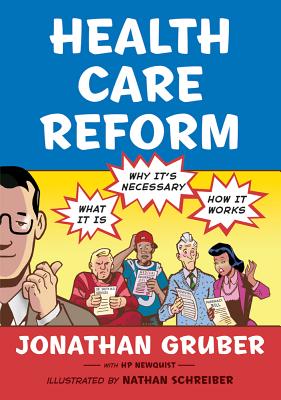 Health Care Reform
What It Is, Why It's Necessary, How It Works
Hill & Wang, Paperback, 9780809053971, 151pp.
Publication Date: December 20, 2011
* Individual store prices may vary.
Buy at Local Store
Enter your zip code below to purchase from an indie close to you.
or
Not Currently Available for Direct Purchase
Description
You won't have to worry about going broke if you get sick.
We will start to bring the costs of health care under control.
And we will do all this while reducing the federal deficit.
That is the promise of the Affordable Care Act. But from the moment President Obama signed the bill into law in 2010, a steady and mounting avalanche of misinformation about the ACA has left a growing majority of Americans confused about what it is, why it's necessary, and how it works. If you're one of them, buy this book. From how to tame the twin threats of rising costs and the increasing number of uninsured to why an insurance mandate is good for your health, "Health Care Reform" dispels false fears by arming you with facts.
About the Author




HP Newquist (The Book of Blood, Here There Be Monsters)writes about all kinds of things, from human brains and giant squids to monsters and music. When he's not writing, he's traveling with his wife and two daughters, playing his guitar, or exploring new technologies. He and his family live in Connecticut and you can find out more about him at www.newquistbooks.com.
Praise For Health Care Reform…
"Jonathan Gruber, one of the country's smartest health care minds, has brought the epic struggle of health reform to life. By explaining the challenges in our health care system as well as the benefits of the reform with imagination and verve, he accomplishes what many have tried and failed to do—he makes the case for health reform as an important achievement for the American people." —Neera Tanden, President of the Center for American Progress
"Having spent years working to make health care work for Americans, Jonathan Gruber has now provided another service: walking everyone through the benefits of the Affordable Care Act reforms so consumers are armed with accessible information. In an age when information is power, Gruber's book is fun and informative, and it boils down the facts of health care reform for all Americans." —Senator John Kerry "If you want to learn about health care reform, you can do no better than to learn from the master. Jonathan Gruber shows how health care reform works in a way that everyone can understand. Read this book. You will not regret it." —David Cutler, Professor, Department of Economics and Kennedy School of Government, Harvard University "Jonathan Gruber's straightforward explanation of what the Affordable Care Act does and why will help people understand what's true and what's false about the health reform law. His message is clear and easy to get: when it comes to health care, we're all in it together; and, together, we will benefit from making the Affordable Care Act a success." —Judy Feder, Professor and former Dean, Georgetown Public Policy Institute