Margaret Sanger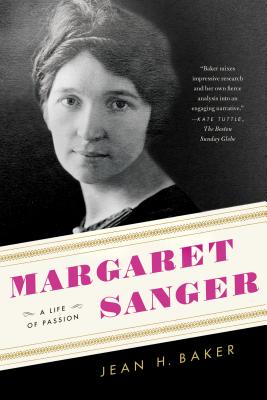 Margaret Sanger
A Life of Passion
Hill & Wang, Paperback, 9780809067572, 368pp.
Publication Date: November 13, 2012
* Individual store prices may vary.
Buy Now
or
Shop Local
Enter your zip code below to purchase from an indie close to you.
Description
Undoubtedly the most influential advocate for birth control even before the term existed, Margaret Sanger ignited a movement that has shaped our society to this day. Yet her star has waned. A frequent target of so-called family values activists, she has also been neglected by progressives, who cite her socialist leanings and purported belief in eugenics. In this captivating biography, the renowned feminist historian Jean H. Baker rescues Sanger from such critiques and restores her to the vaunted place in history she once held.
Trained as a nurse, Sanger saw the dangers of unplanned pregnancy and pioneered the first family planning clinic, the forerunner to Planned Parenthood. The movement she started spread across the country, eventually becoming a vast international organization with her as its spokeswoman. Baker demonstrates that Sanger's staunch advocacy of women's privacy and freedom extended to her personal life as well: after abandoning the trappings of home and family for a globe-trotting life, she became notorious for the sheer number of her romantic entanglements. That she lived long enough to witness the advent of "free love" and the creation of the birth control pill which finally made planned pregnancy a reality is only fitting.
About the Author
Jean H. Baker is a professor of history at Goucher College. She is the author of several books, including "The Stevensons", " Mary Todd Lincoln", "Margaret Sanger", and "Sisters: The Lives of America's Suffragists". She lives in Baltimore, Maryland.
Praise For Margaret Sanger…
"Breathtaking . . . [Baker's] writing is . . . elegant and, more significantly, she has subtly managed to turn her narrative into a redemptive argument, reframing Sanger as an intensely feminist—if politically opportunistic—reformer."
—Women's Review of Books

"Baker doesn't rose-tint when it comes to Sanger's difficult personality . . . and she remains an engaging writer even in her subject's later years, where many biographies wilt . . . [Baker] has a knack for the well-chosen detail[.]"
—The Wall Street Journal

"Baker's biography succeeds in taking readers on a fascinating journey into the world of the 1920s and '30s, when the Comstock laws made even the act of distributing information about birth control a crime. The strength of Baker's book is in her ability to contextualize Sanger within her own time, which may prompt even her harshest critics to reassess her legacy. Baker makes it clear that Sanger believed, above all else, that every woman should have the right to control all aspects of her reproductive life through the diligent use of birth control."
—City Paper

"Baker accepts her subject, warts and all, and believes that by situating her in the context of her own times, Sanger emerges as a far more complex and sympathetic figure than her latter-day critics acknowledge."
—Minneapolis Star-Tribune

"Baker mixes impressive research and her own fierce analysis into an engaging narrative."
—The Boston Globe

"Baker's book is a thorough and engrossing portrayal of the relentless passion that drove Sanger to fight for the rights of women to access safe and easy birth control."
—The Washington Independent Review of Books

"Best known as an advocate for spearheading the birth control movement, Margaret Sanger was an often-polarizing figure whose life Baker, a historian at Goucher College, expertly parses . . . This unbiased account underscores the ferocity of the fighter and the necessity of the fight."
—Publishers Weekly

"Baker ably illuminates the time period, making clear the attitudes that Sanger confronted and the political and religious forces that were arrayed against her . . . A wealth of information about the birth-control movement and the dedicated woman who was long at the center of it."
—Kirkus Reviews

"Here is a lucid, compelling story about a long, complicated, and ultimately society-altering American life. For too long, the women's movement has paid too little tribute to brave but difficult Margaret Sanger. Jean H. Baker has finally, firmly, and unforgettably placed her within the pantheon of feminist history."
—Harold Holzer, historian and former press secretary to Bella S. Abzug

"It is a mark of the still controversial nature of birth control that Margaret Sanger remains a controversial subject. Now, finally, she has the biography she deserves. Jean H. Baker has restored Margaret Sanger to history and history to Margaret Sanger."
—Ellen Dubois, Professor of History, UCLA

"Jean H. Baker's fine book gives us a believable Margaret Sanger—brave, shrewd, attractive, and flawed."
—Dorothy Ross, Arthur O. Lovejoy Professor Emerita of History, Johns Hopkins University