Luv Ya Bunches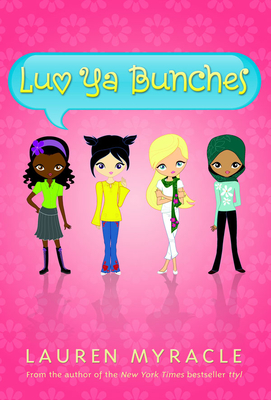 Luv Ya Bunches
ABRAMS, Hardcover, 9780810942110, 335pp.
Publication Date: October 1, 2009
* Individual store prices may vary.
Buy Now
or
Shop Local
Enter your zip code below to purchase from an indie close to you.
Description
What do Katie-Rose, Yasaman, Milla, and Violet all have in common? Other than being named after flowers, practically nothing. Katie-Rose is a film director in training. Yasaman is a computer whiz. Milla is third in command of the A list. And Violet is the new girl in school. They re fab girls, all of them, but they sure aren t friends. And if evil queen bee Medusa scuse me, Modessahas her way, they never will be. But this is the beginning of a new school year, when anything can happen and social worlds can collide . . .
Told in Lauren Myracle's inventive narrative stylehere a fresh mix of instant messages, blog posts, screenplay, and straight narrative"Luv Ya Bunches," the first in a four-book series, is a funny, honest depiction of the shifting alliances and rivalries that shape school days, and of the lasting friendships that blossom from the skirmishes.
About the Author
When Lauren Myracle was thirteen, she spent hours lying on her bed, staring at the cracks on her ceiling and wishing so hard to be magic. She wanted to bend spoons with her mind, talk to her sister telepathically, and rearrange her molecules so she could walk through walls. She wanted fairies to leave gumdrops on her windowsill. She wanted well-known paths to unexpectedly lead to mystical lands and times. She also wished she would grow up to become a writer and that part came true! (Which is not to say the other parts didn t. . . .) She s written many books for tweens and teens, including the bestselling Winnie Years series and the Flower Power series. She lives with her family in Colorado, and she thinks life is the most magical adventure of all.