Attack of the Fluffy Bunnies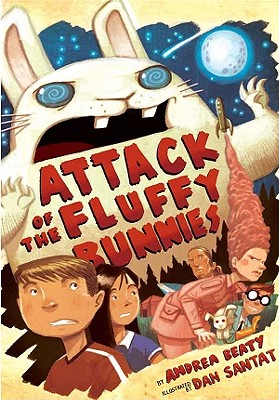 Attack of the Fluffy Bunnies
ABRAMS, Hardcover, 9780810984165, 182pp.
Publication Date: May 2010
* Individual store prices may vary.
Shop Local
Enter your zip code below to find indies closest to you.
Description
When Joules and Kevin Rockman's parents drop them off at Camp Whatsitooya on their way to an International Spamathon, the twins expect a summer of marshmallows, campfires, and canoe trips. What they do not expect is to defend the earth from an invasion of sugar-addicted, murderous, seven-foot-tall rabbits from another galaxy. Happily, the Rockman twins, veteran watchers of the "Late, Late, Late Creepy Show for Insomniacs," are unusually well-prepared for dealing with monstrous beings from outer space. If only their fellow campers were so lucky.
Andrea Beaty, author of several very funny picture books and a mysterious novel, here reaches new heights of hilarity and verbal dexterity in a novel sure to become a camp"ba-dum-dum"classic.
About the Author
Andrea Beaty is the author of" Doctor Ted"; "Firefighter Ted"; "Hush, Baby Ghostling";" When Giants Come to Play"; and "Iggy Peck, Architect". As a kid, she spent her days being a detective, world explorer, movie star, and spy. Now, as a children's author, she spends her days pretty much the same way! She lives in the Chicago area. You can visit her online at andreabeaty.com.

Dan Santat, the author and illustrator of The Guild of Geniuses. He's also developing his own animated television show.