The Dog Who Belonged to No One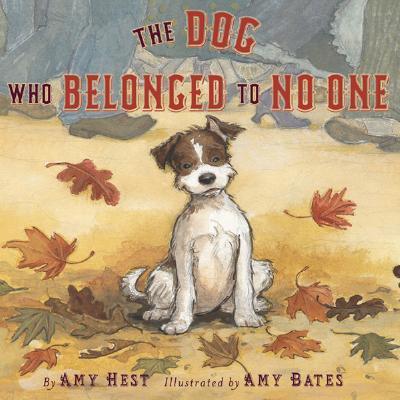 The Dog Who Belonged to No One
Abrams Books for Young Readers, Hardcover, 9780810994836, 26pp.
Publication Date: September 1, 2008
* Individual store prices may vary.
Buy at Local Store
Enter your zip code below to purchase from an indie close to you.
or
Buy Here
Description
"A timeless tale of friendship by "New York Times "bestselling author Amy Hest.""Once there was a small dog with ""crooked ears. He belonged to no one.""And once there was a wisp of a girl ""named Lia. . . .""The dog who belonged to no one spent ""his days quite alone. . . . He longed for a friend."No one takes notice of a small dog with crooked ears who doesn t have a home. He explores the narrow streets and wide boulevards every day, while across town a little girl named Lia pedals on her bicycle alone, delivering breads and cakes. Both dream of finding a friend, until fate brings them together.With lyrical text by "New York Times "bestselling author Amy Hest and tender watercolors by illustrator Amy Bates, "The Dog Who Belonged to No One "introduces readers to two timeless characters who will touch hearts as they discover how they belong to each other.
About the Author
In Her Own Words...
"I grew up in a small suburban community about an hour from New York City. My favorite things were biking, reading, and spying. I spied on everyone, and still do. Coffee shops, I find, make an excellent backdrop for this particular activity. I may look like I'm minding my own business, sipping coffee, eating a cheese Danish, but in fact I am really doing spy work. Listening to conversations at the tables nearby. Watching to see who is saying what to whom. I am amazingly discreet for someone who never went to spy school. As I pick up bits and pieces of true life stories, I quietly weave in my own ideas, creating new stories with my very own endings. Spy work is a lot of fun.
"My parents took me to the city often. I loved the commotion and whirl on the streets and the screeching subway underground. I loved the hot dogs and crunchy doughnuts at Chock Full 0' Nuts, and the way mustard came on a tiny rippled paper. By the time I was seven, I was certain of one thing: that I would one day live in New York. Many years later, after graduating from library school, I moved to the Upper West Side of Manhattan, and I live here still, with my husband and two children, Sam and Kate.
"I was a lucky child, really. I was so close with my grandparents, it was as if I had two sets of parents all the time I was growing up. They lived in New York but came out to our house on weekends. Fridays, Nana cooked up a storm and arrived laden with shopping bags filled with homemade Jewish delicacies. She lit Sabbath candles and told wonderful family stories. I was privy to the best gossip.
"Grampa and I played checkers. We took earlymorning walks. My goal: to get out of the house before my brother woke up, to be alone for once with Grampa. Destination: hot chocolate and a buttered roll.
"I suppose I have to tell the truth about the kind of child I was. The best word to describe me: boring. I never once did anything extraordinarily wonderful or extraordinarily terrible. I knew in my heart I wanted to be a writer when I grew up, but there was this nasty little voice in the back of my head, and it was laughing at me. "You must be kidding, Amy! Why in the world would anyone want to read what you write? Remember who you are: the most boring person in the universe. Nothing ever happens to you. What nerve you have, thinking you can do something wonderful and clever like write."
"I worked for several years as a children's librarian and, later, in the children's book departments of several major publishing houses. I had a lot of good jobs. I had a secret, too. I wanted to write. And what I wanted to write, always, was children's books. it took me a long time to get over a kind of fear of writing, to start to believe I could do it. it took me a long time to realize all those boring days of my childhood may not have been so empty after all.
"My books are about real people-often people in my own family, with new names hut familiar personality traits. The setting is more often than not New York City. Family, home. Running themes in my life, and in my stories, too."
Amy June Bates has illustrated dozens of children's books, including Pumpkin Cat and the Beryl E. Bean series. She lives in Ann Arbor, Michigan, with her husband and their son, Evan.