Siddhartha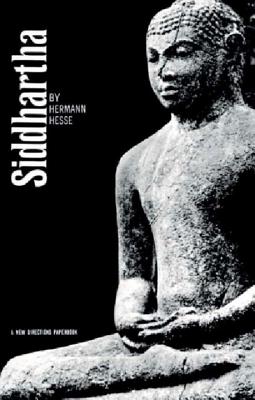 Siddhartha
New Directions Publishing Corporation, Paperback, 9780811200684, 122pp.
Publication Date: January 17, 1957
* Individual store prices may vary.
Buy at Local Store
Enter your zip code below to purchase from an indie close to you.
or
Buy Here
Description
Written in a prose of almost biblical simplicity and beauty, it is the story of a soul's long quest in search of he ultimate answer to the enigma of man's role on this earth. As a youth, the young Indian Siddhartha meets the Buddha but cannot be content with a disciple's role: he must work out his own destiny and solve his own doubt a tortuous road that carries him through the sensuality of a love affair with the beautiful courtesan Kamala, the temptation of success and riches, the heartache of struggle with his own son, to final renunciation and self-knowledge The name "Siddhartha" is one often given to the Buddha himself perhaps a clue to Hesse's aims in contrasting the traditional legendary figure with his own conception, as a European (Hesse was Swiss), of a spiritual explorer.
About the Author
When this German novelist, poet, and essayist publicly denounced the savagery and hatred of World War I, he was considered a traitor. He moved to Switzerland where he eventually became a naturalized citizen. He warned of the advent of World War II, predicting that cultureless efficiency would destroy the modern world. His theme is the conflict between the elements of a person's dual nature and the problem of spiritual loneliness. His first novel, Peter Camenzind, was published in 1904. His masterpiece, Death and the Lover (1930), contrasts a scholarly abbot and his beloved pupil, who leaves the monastery for the adventurous world. Steppenwolf (1927), a European bestseller, was published when defeated Germany had begun to plan for another war. It is the story of Haller, who recognizes in himself the blend of the human and wolfish traits of the completely sterile scholarly project. Hesse won the Nobel Prize in 1946. During the 1960s Hesse became a favorite writer of the counter culture, especially in the United States, though his critical reputation has never equaled his popularity. Hermann Hesse died in 1962.

Hilda Rosner contributed to The Journey to the East from Picador.