An Accidental Autobiography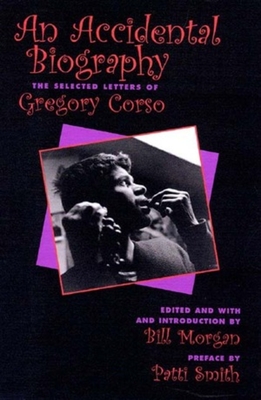 An Accidental Autobiography
The Selected Letters of Gregory Corso
New Directions Publishing Corporation, Paperback, 9780811215350, 444pp.
Publication Date: April 17, 2003
* Individual store prices may vary.
Buy at Local Store
Enter your zip code below to purchase from an indie close to you.
or
Buy Here
Description
Fabulous letters from the vagabond Beat poet to his friendsamong them Allen Ginsberg and Lawrence Ferlinghetti. For all his charm and intelligence poet Gregory Corso lived a vagabond life. He never held down a regular job. He rarely stayed very long under the same roof. He spent long stretchessome as long as four or five yearsabroad. Many of his letters came from EuropeFrance, England, Germany, Italy, Sweden, Greeceas he kept in touch with his circle of friendsamong them his best friend Allen Ginsberg and a steady supporter, Lawrence Ferlinghetti. He left (or was left by) a number of girlfriends and he fathered five children along the way. He was apt to raise a bit of a ruckus at poetry readings and other public events. No one could be sure what he might do next except that he would write poetry and get it published and that it would be widely read. When the idea of a book of selected letters was first proposed, Gregory had some reservations about it. Would the book reveal too much of his private life? But then with typical hubris he said the equivalent of "let it all hang out" and "all" does hang out in "An Accidental Autobiography." The book is indeed the next thing to an unplanned self-portrait and gives a lively sense of the life Gregory Corso led, marching to his own drummer and leaving in his wake such marvelous books of Beat poetry as "The Happy Birthday of Death, Elegiac Feelings American, Long Live Man, " and "Herald of the Autochthonic Spirit." Bill Morgan, who is extremely conversant with the Beats, has done an admirable job collecting letters from libraries and various individuals across the country and then selecting and organizing them in a progression that spans Corso's lifetime. In addition to Morgan's introduction and commentary, the book includes a special foreword by poet and rock star Patti Smith as well as a number of photographs.
About the Author
Gregory Corso (1930-2001) was abandoned by his mother a month after his birth at St. Vincent's Hospital in New York. Growing up in foster care and on the streets of Little Italy, Corso was a juvenile delinquent who spent time in Clinton Correctional Facility, in the cell recently vacated by gangster "Lucky" Luciano. An aspiring poet, Corso was taken under the wing of Jack Kerouac and Allen Ginsberg, and became the youngest member of the Beat Generation's inner circle, with whom he lived and work in the Beat Hotel, a lodging house in Paris, during the late fifties. There he created one of his signature works, "Bomb," a poem composed of typewritten strips of paper arranged in the shape of a mushroom cloud. Late in life, Corso became reunited with his mother and maintained a close relationship with her until his death.

Bill Morgan is a painter and archival consultant working in New York City. He is the author of The Beat Generation in New York: A Walking Tour of Jack Kerouac's City.

Patti Smith is a writer, visual artist, and performer. Her New York Times bestselling book Just Kids was awarded the 2010 National Book Award for Nonfiction. She is the recipient of France's highest honor for a living artist, the Commandeur de l'Ordre des Arts et des Lettres, as well as the Polar Award, one of the most distinguished music prizes. Her album Horses was inducted into the Library of Congress National Recording Registry and is number 44 on Rolling Stone's 500 Greatest Albums of All Time. In 2008, Smith was inducted into the Rock and Roll Hall of Fame, and in 2010 she received ASCAP's Founders Award for lifetime achievement. Her books include Witt, Babel, Woolgathering, The Coral Sea, Auguries of Innocence, and M Train.