Journey to the End of the Night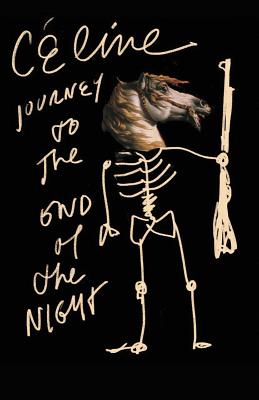 Journey to the End of the Night
New Directions Publishing Corporation, Paperback, 9780811216548, 453pp.
Publication Date: May 17, 2006
* Individual store prices may vary.
Buy at Local Store
Enter your zip code below to purchase from an indie close to you.
or
Buy Here
Description
Louis-Ferdinand Celine's revulsion and anger at what he considered the idiocy and hypocrisy of society explodes from nearly every page of this novel. Filled with slang and obscenities and written in raw, colloquial language, Journey to the End of the Night is a literary symphony of violence, cruelty and obscene nihilism. This book shocked most critics when it was first published in France in 1932, but quickly became a success with the reading public in Europe, and later in America where it was first published by New Directions in 1952. The story of the improbable yet convincingly described travels of the petit-bourgeois (and largely autobiographical) antihero, Bardamu, from the trenches of World War I, to the African jungle, to New York and Detroit, and finally to life as a failed doctor in Paris, takes the readers by the scruff and hurtles them toward the novel's inevitable, sad conclusion.
About the Author
Louis-Ferdinand Celine (1894-1961) was a French writer and doctor whose novels are antiheroic visions of human suffering. Accused of collaboration with the Nazis, Celine fled France in 1944 first to Germany and then to Denmark. Condemned by default (1950) in France to one year of imprisonment and declared a national disgrace, Celine returned to France after his pardon in 1951, where he continued to write until his death. His classic books include Journey to the End of the Night, Death on the Installment Plan, London Bridge, North, Rigadoon, Conversations with Professor Y, Castle to Castle, and Normance.

Ralph Manheim (b. New York, 1907) was an American translator of German and French literature. His translating career began with a translation of Mein Kempf in which Manheim set out to reproduce Hitler's idiosyncratic, often grammatically aberrant style. In collaboration with John Willett, Manheim translated the works of Bertolt Brecht. The Pen/Ralph Manheim Medal for translation, inaugurated in his name, is a major lifetime achievement award in the field of translation. He himself won its predecessor, the PEN translation prize, in 1964. Manheim died in Cambridge in 1992. He was 85.

William T. Vollmann is the author of seven novels, three collections of stories, and a seven-volume critique of violence, Rising Up and Rising Down. He is also the author of Poor People, a worldwide examination of poverty through the eyes of the impoverished themselves; Riding Toward Everywhere, an examination of the train-hopping hobo lifestyle; and Imperial, a panoramic look at one of the poorest areas in America. He has won the PEN Center USA West Award for Fiction, a Shiva Naipaul Memorial Prize and a Whiting Writers' Award. His journalism and fiction have been published in The New Yorker, Esquire, Spin and Granta. Vollmann lives in Sacramento, California.