Triptych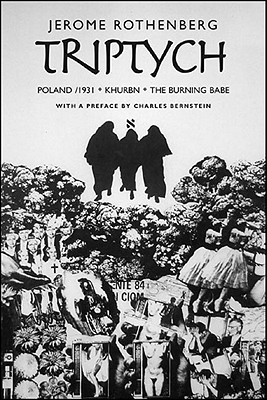 Triptych
Poland/1931, Khurbn, the Burning Babe
New Directions Publishing Corporation, Paperback, 9780811216920, 227pp.
Publication Date: June 29, 2007
* Individual store prices may vary.
Buy at Local Store
Enter your zip code below to purchase from an indie close to you.
or
Buy Here
Description
The key book by the internationally celebrated poet with the only "Polish ghetto-Hassidic-cowboy and Indian American comic voice" (Robert Duncan) in history.
"if only our eyes were wild enough
to see them our hearts to know their terror"
--Jerome Rothenberg
For the last half of the twentieth century into the new millennium, no other American poet has been as deeply engaged in the opening of the poem (its boundaries and its possibilities) than Jerome Rothenberg. As editor, translator, essayist, performer, groundbreaking anthologist, one of the founding figures of enthnopoetics, and most significantly, as poet, Rothenberg has remapped the art against the grain of a single "great tradition."
Reminiscent of H.D.'s "Trilogy, Triptych" assembles three long serial poems into one multilayered sacred text. Like Kafka's "Amerika," Calvino's "Euphemia," and Babel's "Odessa," Rothenberg's Poland in "Poland/1931," first published in 1974, is a "poland stuffed with poland / brought in the imagination." Fifteen years later, Poland materializes into "Khurbn" (a Yiddish word meaning destruction, holocaust, human disaster), a poem summoned from the author's visit to his ancestral town, Ostrow-Mazowiecka, and the confrontation with his family's annihilation--including an uncle who killed himself--during World War II. "Allowing my uncle's khurbn to speak through me..." the author writes, "the poems are the clearest message I have ever gotten about why I write poetry." And now in 2006, "The Burning Babe" rises out of the furnace of khurbn, "reaching through the ruins / for a place to soar.,.".

About the Author
Jerome Rothenberg is the winner of numerous awards, among them two PEN Oakland Josephine Miles Awards in Literature, two PEN Center USA West Translation Awards, the Alfonso el Sabio Award for Translation, and two American Book Awards. He is the author of over eighty collections of poetry, twelve from New Directions and the most recent, Concealments and Caprichos, from Black Widow Press (2010); two collections of essays; ten books of translations from Spanish, German, French, and Czech; and editor or co-editor of nine anthologies, among them the seminal Technicians of the Sacred (Doubleday & Co., 1968, and University of California Press, 1985) and the recent three-volume Poems for the Millennium (University of California Press, 1995, 1998, and 2009). He was editor/publisher of Hawks Well Press in the 1960s and co-editor (with Dennis Tedlock) of the journal Alcheringa (1970-1977), which inaugurated the ethnopoetics movement. He is Professor Emeritus of Literature and Visual Arts at the University of California in San Diego, where he lives with his wife Diane. His books available from SPD include GEMATRIA COMPLETE, THREE POEMS AFTER IMAGES BY NANCY TOBIN, CHINA NOTES & THE TREASURES OF DUNHUANG, 25 CAPRICHOS AFTER GOYA, A BOOK OF CONCEALMENTS, and RETRIEVALS: UNCOLLECTED & NEW POEMS, 1955-2010.

Charles Bernstein (born April 4, 1950) is an American poet, theorist, editor, and literary scholar. Bernstein holds the Donald T. Regan Chair in the Department of English at the University of Pennsylvania. He is one of the most prominent members of the Language (or L=A=N=G=U=A=G=E) poets. In 2006 he was elected a Fellow of the American Academy of Arts and Sciences. In 2005, Bernstein was awarded the Dean's Award for Innovation in Teaching at the University of Pennsylvania. He has also been a visiting professor at Columbia University, Brown University, and Princeton University.