We Meet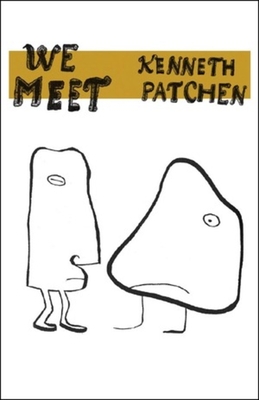 We Meet
New Directions Publishing Corporation, Paperback, 9780811217583, 282pp.
Publication Date: July 1, 2008
* Individual store prices may vary.
Buy at Local Store
Enter your zip code below to purchase from an indie close to you.
or
Buy Here
Description
The singular work of Kenneth Patchen has influenced poets, artists and political activists for decades. New Directions is proud to launch a Patchen revival beginning with omnibus editions of his unique compositions. We Meet highlights Patchen's more outlandish side and includes, like fabrics stitched into a crazy quilt, Because It Is, A Letter to God, Poemscapes, Hurrah For Anything, and Aflame & Afun of Walking Faces. "Because to understand one must begin somewhere," opens Patchen's fabulous book of poems Because It Is perhaps the most ideal reason for such a melting pot of poetry. Open any page at random and find Patchen protesting the Second World War (A Letter to God), or telling the tale of how hot water first came to be tracked onto bedroom floors (Aflame and Afun of Walking Faces), or informing the reader what happened when the nervous vine wouldn't twine (Because It Is), or why he loathes those who act as if a cherry were something they personally thought up (Hurrah For Anything), or answering what he wants out of life: "let's say no matter" (Poemscapes).
About the Author
Kenneth Patchen (1911-1972) was a poet, playwright, fiction and fable

writer, artist, and performer of poetry-jazz, working in the tradition

of engaged writing which he helped to forge in America. Producing

almost a book a year for 36 years, his work stands as an exposed girder

in the structure of American character and art. His friendships with

such writers as Amos Wilder, Lewis Mumford, James Laughlin, Henry

Miller, Kenneth Rexroth, Dylan Thomas, Lawrence Ferlinghetti and

others place him at the center of dissident writing in America. Rising

from his native grounds in working-class Ohio, he became a leading

figure among Leftist thinkers and artists in Greenwich Village's 1930s

and 40s. In the 1950s he moved to the West Coast where he created

artistic blends of poetry and art, and poetry and jazz. Finally crippled

with back pain during the last decade of his life, he created the

wonderful picture-poems. For four decades, on East and West Coast,

by the force of his own will and his native genius, Patchen molded a

life and art as one. With the loving support of his wife Miriam he

endured the pain and travail of years of struggle to recast an art based

on truth and striking beauty. His is one of the great stories of American

literature.