Just a Minute!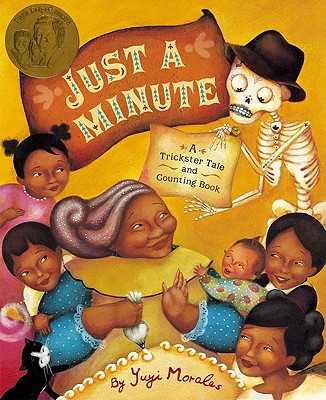 Just a Minute!
A Trickster Tale and Counting Book
Chronicle Books, Hardcover, 9780811837583, 36pp.
Publication Date: September 1, 2003
* Individual store prices may vary.
Buy Now
or
Shop Local
Enter your zip code below to purchase from an indie close to you.
Description
In this original trickster tale, Senor Calavera arrives unexpectedly at Grandma Beetle's door. He requests that she leave with him right away. "Just a minute," Grandma Beetle tells him. She still has one house to sweep, two pots of tea to boil, three pounds of corn to make into tortillas -- and that's just the start Using both Spanish and English words to tally the party preparations, Grandma Beetle cleverly delays her trip and spends her birthday with a table full of grandchildren and her surprise guest. This spirited tribute to the rich traditions of Mexican culture is the perfect introduction to counting in both English and Spanish. The vivacious illustrations and universal depiction of a family celebration are sure to be adored by young readers everywhere.
About the Author
Yuyi Morales is an author/illustrator whose books have won the Pura Belpre Award, the Christopher Award, and the Jane Addams Award. She lives in northern California.


Praise For Just a Minute!…
Winking and nodding as she goes, a Latino grandmother will charm readers as she charms Death Himself in this original counting-cum-trickster tale. When skeletal Senor Calavera appears at the door, Grandma Beetle bids him wait while she sweeps ONE house ('UNO'), makes TWO pots of tea ('DOS'), grinds THREE pounds of corn for tortillas ('TRES'), and so on, culminating in a festive birthday party at which Senor Calavera finds himself guest number TEN ('DIEZ'). As Grandma, round and brown, with sparkles in her eyes and gray hair both, bustles about, the expression on Senor Calavera's sugar-skull face grows more and more hilariously impatient -- but by party's end, he's departed, leaving a thank-you note promising to be back for Grandma Beetle's next birthday. Lit with dancing lines and warm colors, Morales' illustrations enhance the appeal of this winning story even further. - Kirkus Reviews, starred review
What's an old woman to do when a skeleton pays her a birthday visit and beckons her to "come along"? Grandma Beetle, the heroine of this joyful book by the illustrator of Harvesting Hope, stalls for time. "Just a minute," she says; there's something she needs to do. One chore leads to another, but the skeleton can't mask his enthusiasm as Grandma cooks, fills pinatas, and performs other tasks, each one linked to a number from 1 to 10, uno to diez. Eventually nueve grandchildren arrive for Grandma's birthday party, and guess who else is invited? Even if children don't grasp the implications of the skeleton's visit, they'll enjoy seeing him join the fun, and when he extends Grandma's lease on life, the relieved, loving embrace she gives her grandchildren will satisfy young ones at a gut level. Like the text, the rich, lively artwork draws strongly upon Mexican culture, with hints of Diego Rivera in Grandma's robust form, and the skeleton resembling the whimsical figurines often seen in Day of the Dead folk art. Along with their useful math and multicultural elements, the splendid art and spiritual storytelling auger a long, full life for this original folktale. - Booklist, starred review

Winking and nodding as she goes, a Latino grandmother will charm readers as she charms Death Himself in this original counting-cum-trickster tale...Kirkus Reviews