The Kid Who Named Pluto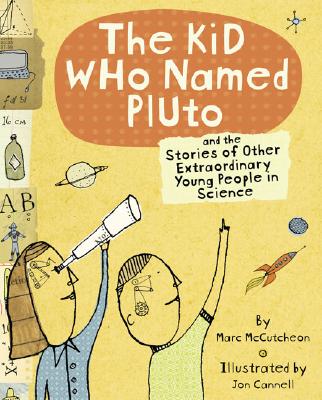 The Kid Who Named Pluto
And the Stories of Other Extraordinary Young People in Science
Chronicle Books (CA), Hardcover, 9780811837705, 85pp.
Publication Date: February 2004
* Individual store prices may vary.
Shop Local
Enter your zip code below to find indies closest to you.
Description
Which of the following were discovered or invented by kids?
a) Television
b) Pterodactyl fossils
c) Braille
Answer: All of the above
These important contributions to science and many others were the result of the efforts of curious and smart kids who often started with only a simple idea or sketch. This fascinating book tells the stories of nine such kids, all of who made lasting impacts in science. Included are some well-known innovators, such as Louis Braille and physicist Robert Goddard, as well as lesser-known people like Philo Farnsworth, the teen inventor of television, and Mary Anning, the great paleontologist credited with finding dozens of spectacular fossils from the Jurassic period as a young girl. Each chapter is a testament to what young people can achieve through curiosity, imagination and persistence.
About the Author
Marc McCutcheon is the author of fourteen books, including Descriptionary; Damn, Why Didn't I Write That?; and Everyday Life in the 1800s. He runs his own bookstore, Once and Again Books, in Scarborough, Maine.

Jon Cannell is an accomplished designer and founder of Jon Cannell Design. His clients include several Fortune 500 companies. He lives in Washington state.
Praise For The Kid Who Named Pluto…
"McCutcheon profiles nine lads and lasses from the last two centuries who at least began making names for themselves in science or invention while children or teenagers..." -Kirkus Reviews
"...offers true stories that focus on nine prodigies who changed the face of science, such as Philo Taylor Farnsworth in 'The Teenager Who Invented Television' (he made the first design for a television when he was only 14, according to his bio) and Mary Anning whose discovery (in the early 1800s) of an ichthyosaur skeleton as a 12-year-old led her to a life as a paleontologist in 'The Curious Girl Who Discovered Sea-Monster Skeletons.'" -Publisher's Weekly