Worst Case Scenario Extreme Survival Handbook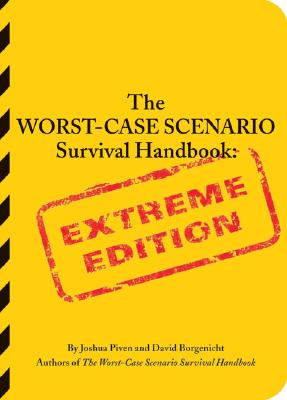 Worst Case Scenario Extreme Survival Handbook
Chronicle Books (CA), Paperback, 9780811845380, 173pp.
Publication Date: October 14, 2005
* Individual store prices may vary.
Buy Now
or
Shop Local
Enter your zip code below to purchase from an indie close to you.
Description
How could it get any worse?
For the latest book in the phenomenally successful Worst-Case Scenario Survival Handbook series, the authors have pulled out all the stops, harkening back to the core appeal that made the first book a runaway bestseller. Here are all new scenarios for living life on the very edge. Imperiled readers will learn immediate, hands-on strategies for surviving an elephant stampede, a 16-car pile-up, a mine collapse, and a nuclear attack. Discover how to take a bullet, control a runaway hot air balloon, break a gorilla's grip, endure a Turkish prison, and free a limb from a beartrap. Whether stranded on an iceberg, being chased by a pack of wolves, spinning out on a motorcycle, or being buried alive, The Worst-Case Scenario Survival Handbook: Extreme Edition has all the right stuff for those times when everything goes wrong.
About the Author
Joshua Piven is the author of 15 books, including the globally bestselling The Worst-Case Scenario Survival Handbook series and "As Luck Would Have It". He has appeared on The Today Show, 20/20, and the BBC.

David Borgenicht is the creator and co-author of the Worst-Case Scenario Survival Handbook series and the publisher of Pride and Prejudice and Zombies. He lives in Philadelphia.

Brenda Brown has been teaching on principles of purposeful living for twenty-five years. As a life coach, retreat speaker, and women's ministry leader, Brenda encourages mothers to pursue a life of influence and raise their children without regrets.