Modern Sauces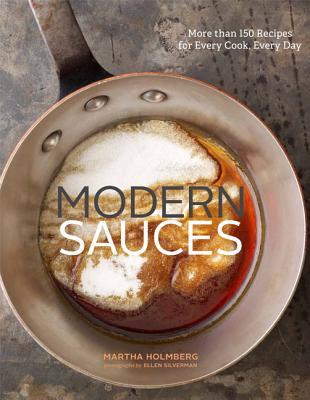 Modern Sauces
More Than 150 Recipes for Every Cook, Every Day
Chronicle Books (CA), Hardcover, 9780811878388, 256pp.
Publication Date: October 17, 2012
* Individual store prices may vary.
Buy at Local Store
Enter your zip code below to purchase from an indie close to you.
or
Buy Here
Description
This is the book for cooks who want to take their cooking to a whole new level. Martha Holmberg was trained at La Varenne and is an award-winning food writer. Her look at this sometimes-intimidating genre expressed in clear, short bites of information and through dozens of process photographs delivers the skill of great sauce-making to every kind of cook, from beginners to those more accomplished who wish to expand their repertoire. More than 100 recipes for sauces range from standards such as bearnaise, hollandaise, and marinara to modern riffs such as maple-rum sabayon, caramelized onion coulis, and coconut-curry spiked chocolate sauce. An additional 55 recipes use the sauces to their greatest advantage, beautifying pasta, complementing meat or fish, or elevating a cake to brilliant. Modern Sauces is both an inspiration and a timeless reference on kitchen technique.
About the Author
Martha Holmberg is Publisher and Editor in Chief of "Fine Cooking. Before joining the magazine ten years ago, Ms. Holmberg worked in London and Paris as a cookbook editor. She also was administrative director of La Varenne cooking school, both at The Greenbrier and in France. She received the Grand Diplome from La Varenne in 1988, after which she worked as a private chef for a diplomat in Pairs.

Ellen Silverman's photographs appear regularloy in magazines such as Eating Well and Food & Wine, and she has photographed numerous cookbooks and cookbook covers. She maintains a studio in New York.
Praise For Modern Sauces…
"Here's a book you'll use every day whether you're tossing together a quick salad or creating a dessert for a gala. Martha Holmberg's truly modern (read: simple, fast and tasty) sauces pump up the flavor and excitement of every dish. Think of these sauces as a culinary bag of tricks . I do." - Dorie Greenspan, author of Around My French Table

"Food writer, editor, and Paris-trained chef Holmberg (Crepes) believes sauces are an integral part of everyday cooking. With these 100-plus recipes, organized by ingredient and method (e.g., Vinaigrettes, Chocolate Sauces), she shows readers that sauce-making doesn't have to be tedious. In a clear and encouraging voice, she explains how to season, store, portion, and improvise on classic sauces that elevate such dishes as Fried Eggs with Garlicky Chard and Saffron-Red Pepper Hollandaise and Simple and Delicious Enchiladas. VERDICT Easily Holmberg's best cookbook to date, this uses delicious recipes-like the outstanding Rice Pudding with Cardamom Meringues, Lime Crème Anglaise, and Chunky Mixed-Berry Coulis-to put essential skills in context." - Library Journal

"Modern Sauces is my favorite book this year. It is destined to be a classic reference for the rest of my cooking life, on one of the most valuable but least understood facets of cooking: sauces. Martha Holmberg brings great intelligence and lucid writing and instructions to the important craft of sauces. She is both respectful of and illuminating about classic sauces, innovative in her thinking about contemporary sauces, and practical in terms of everyday cooking. This is a great book." - Michael Ruhlman, author of Twenty, Ratio and Salumi