The Hound of the Baskervilles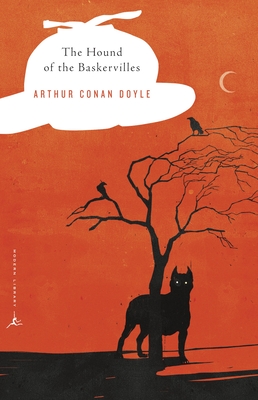 The Hound of the Baskervilles
Modern Library, Paperback, 9780812966060, 208pp.
Publication Date: October 8, 2002
* Individual store prices may vary.
Shop Local
Enter your zip code below to find indies closest to you.
Description
Introduction by Laurie R. King
The most famous of the Sherlock Holmes stories, "The Hound of the Baskervilles "features the phantom dog of Dartmoor, which, according to an ancient legend, has haunted the Baskervilles for generations. When Sir Charles Baskerville dies suddenly of a heart attack on the grounds of the family's estate, the locals are convinced that the spectral hound is responsible, and Holmes is called in. "Conan Doyle triumphed and triumphed deservedly," G. K. Chesterton wrote, "because he took his art seriously, because he lavished a hundred little touches of real knowledge and genuine picturesqueness on the police novelette.
About the Author
Sir Arthur Ignatius Conan Doyle (1859-1930) was a Scottish physician and prolific writer most renowned for his ingenious Sherlock Holmes detective stories A Study in Scarlet, The Sign of the Four, The Adventures of Sherlock Holmes, The Memoirs of Sherlock Holmes, The Hound of the Baskervilles, The Return of Sherlock Holmes, The Valley of Fear, His Last Bow, and The Case-Book of Sherlock Holmes. His collected body of work includes science fiction stories, historical novels, plays, romances, poetry, and nonfiction. Conan Doyle was knighted by King Edward VII in 1902 after writing a widely acclaimed pamphlet defending the British position in the Boer War.

Laurie R. King is the Edgar Award-winning author of the Kate Martinelli novels and the acclaimed Mary Russell-Sherlock Holmes mysteries, as well as a few stand-alone novels. "The Beekeeper's Apprentice", the first in her Mary Russell series, was nominated for an Agatha Award and was named one of the Century's Best 100 Mysteries by the Independent Mystery Booksellers Association. "A Monstrous Regiment of Women" won the Nero Wolfe Award. She has degrees in theology, and besides writing she has also managed a coffee store and raised children, vegetables and the occasional building. She lives in northern California.
Praise For The Hound of the Baskervilles…
"The whole Sherlock Holmes saga is a triumphant illustration of art's supremacy over life." —Christopher Morley