Trouble Man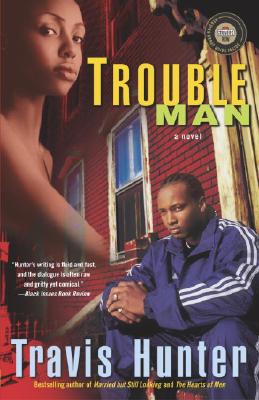 Trouble Man
One World/Strivers Row, Paperback, 9780812966510, 240pp.
Publication Date: June 1, 2004
* Individual store prices may vary.
Not Currently Available for Direct Purchase
or
Shop Local
Enter your zip code below to purchase from an indie close to you.
Description
Growing up on Philadelphia's gritty streets, Jermaine Banks was used to fighting, but life has now thrown him some unexpected hooks and jabs. Almost thirty years old, with a three-year-old son who worships the ground he walks on, a pregnant girlfriend whose family hates every breath he takes, and a slain best friend whose death racks him with guilt, Jermaine realizes it's time to change. But can he step up to the challenge, or will he continue to be a trouble man?
About the Author
Travis Hunter, named Author of the Year in 2003 by readers of the Atlanta Daily World, is the author of Something to Die For, The Hearts of Men, Married but Still Looking, Trouble Man, and A One Woman Man. Hunter lives in Atlanta. Visit his website at www.travishunter.com.
Praise For Trouble Man…
"Hunter's writing is fluid and fast, and the dialogue is often raw and gritty yet comical."
—Black Issues Book Review

"DRAMATIC AND GRITTY . . . Travis Hunter raises the bar . . . with the racy Trouble Man. . . . Expansive in its exploration of male accountability, Trouble Man not only shows the consequences of irresponsible behavior, but also allows for redemption and empathy."
—Upscale magazine

"HIGHLY RECOMMENDED—AND Y'ALL KNOW I DON'T RECOMMEND MUCH!"
—ERIC JEROME DICKEY
Author of The Other Woman

"A VERY EMOTIONAL STORY about a man making choices about being a man for his self-esteem and for the respect of his family."
—Booklist

"Once again, Travis Hunter gives us unforgettable characters that move and touch us in a way very few authors have done. Trouble Man is full of surprises, and it shows that, with patience, love, and a willingness to look deep within our souls, we all have the capacity to grow and change for the better. This is fabulous work from a writer who has proven once again that he's here to stay."
—MARY J. JONES,
PageTurner.net

"Entertaining, funny, true to life . . . a novel about love, war, family, and people struggling to do the right thing. I felt that I knew these people."
—MALIK YOBA, actor and playwright

"Uplifting . . . colorful characters from Hunter's previous two novels return in this earnest, well-intentioned exploration of the complexities of the urban African-American male experience."
—Publishers Weekly

"Colorful characters from Hunter's previous two novels return in this earnest, well-intentioned exploration of the complexities of the urban African-American male experience. . . . Hunter tells a readable tale with an uplifting message."
—Publishers Weekly

"Hunter continues to deliver entertaining, funny, true-to-life stories with his latest, Trouble Man, a novel about love, war, family, and people struggling to do the right thing. I felt that I knew these people."
—MALIK YOBA, actor and playwright