The Innocents Abroad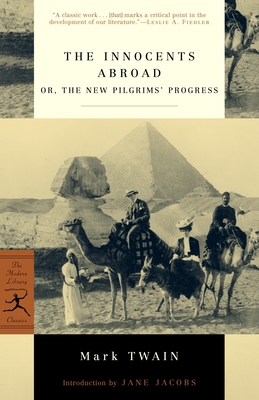 The Innocents Abroad
Or, the New Pilgrims' Progress
Modern Library, Paperback, 9780812967050, 560pp.
Publication Date: February 11, 2003
* Individual store prices may vary.
Buy at Local Store
Enter your zip code below to purchase from an indie close to you.
or
Buy Here
Description
The Innocents Abroad is one of the most prominent and influential travel books ever written about Europe and the Holy Land. In it, the collision of the American New Barbarians and the European Old World provides much comic fodder for Mark Twain and a remarkably perceptive lens on the human condition. Gleefully skewering the ethos of American tourism in Europe, Twain's lively satire ultimately reveals just what it is that defines cultural identity. As Twain himself points out, Broad, wholesome, charitable views of men and things cannot be acquired by vegetating in one little corner of the earth all one's lifetime. And Jane Jacobs observes in her Introduction, If the reader is American, he may also find himself on a tour of his own psyche.
About the Author
Mark Twain, born Samuel Langhorne Clemens, was an American humorist and writer, who is best known for his enduring novels The Adventures of Tom Sawyer and Adventures of Huckleberry Finn, which has been called the Great American Novel. Raised in Hannibal, Missouri, Twain held a variety of jobs including typesetter, riverboat pilot, and miner before achieving nationwide attention for his work as a journalist with The Celebrated Jumping Frog of Calaveras County. He earned critical and popular praise for his wit and enjoyed a successful career as a public speaker in addition to his writing. Twain s works were remarkable for his ability to capture colloquial speech, although his adherence to the vernacular of the time has resulted in the suppression of his works by schools in modern times. Twain s birth in 1835 coincided with a visit by Halley s Comet, and Twain predicted, accurately, that he would go out with it as well, dying the day following the comet s return in 1910.

Jane Jacobs's books include "The Nature of Economies and The Death" and "Life of Great American Cities," both of which are available in Modern Library clothbound editions. She lives in Toronto.
Praise For The Innocents Abroad…
"A classic work . . . [that] marks a critical point in the development of our literature."—Leslie A. Fiedler