The Day of the Triffids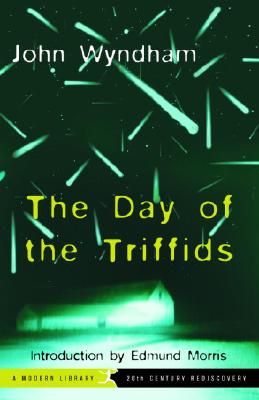 The Day of the Triffids
Modern Library, Paperback, 9780812967128, 256pp.
Publication Date: July 1, 2003
* Individual store prices may vary.
Buy at Local Store
Enter your zip code below to purchase from an indie close to you.
or
Buy Here
Description
In 1951 John Wyndham published his novel "The Day of the Triffids" to moderate acclaim. Fifty-two years later, this horrifying story is a science fiction classic, touted by "The Times" (London) as having all the reality of a vividly realized nightmare.
Bill Masen, bandages over his wounded eyes, misses the most spectacular meteorite shower England has ever seen. Removing his bandages the next morning, he finds masses of sightless people wandering the city. He soon meets Josella, another lucky person who has retained her sight, and together they leave the city, aware that the safe, familiar world they knew a mere twenty-four hours before is gone forever.
But to survive in this post-apocalyptic world, one must survive the Triffids, strange plants that years before began appearing all over the world. The Triffids can grow to over seven feet tall, pull their roots from the ground to walk, and kill a man with one quick lash of their poisonous stingers. With society in shambles, they are now poised to prey on humankind. Wyndham chillingly anticipates bio-warfare and mass destruction, fifty years before their realization, in this prescient account of Cold War paranoia.
About the Author
John Wyndham (1903 1969) began writing and selling short stories in 1925 to periodicals, under a wide array of pseudonyms. After spending the Second World War in the English civil service and later the British Army, he began experimenting with the idea of speculative fiction, a new kind of science fiction which he employed in two of his most successful novels, "The Day of the Triffids" and "The Chrysalids".
Edmund Morris was born and educated in Kenya and went to college in South Africa. He worked as an advertising copywriter in London before immigrating to the United States in 1968. His biography The Rise of Theodore Roosevelt won the Pulitzer Prize and American Book Award in 1980. After spending several years as President Reagan's authorized biographer, he published the national bestseller Dutch: A Memoir of Ronald Reagan in 1999. He has written extensively on travel and the arts for such publications as "The New Yorker, The New York Times," and "Harper's Magazine," Edmund Morris lives in New York and Washington with his wife and fellow biographer, Sylvia Jukes Morris.
"From the Hardcover edition."
Praise For The Day of the Triffids…
"A thoroughly English apocalypse, it rivals H. G. Wells in conveying how the everyday invaded by the alien would feel. No wonder Stephen King admires Wyndham so much."
--RAMSEY CAMPBELL

"John Wyndham's The Day of the Triffids is one of my all-time favorite novels. It's absolutely convincing, full of little telling details, and that sweet, warm sensation of horror and mystery."
--JOE R. LANSDALE

"My son's middle name is Wyndham. Does that tell you how much I respect and revere the late John Wyndham? And The Day of the Triffids is the best of them all. He was a wonderful writer who was able to reinvigorate science fiction with spectacle and true thrills, and do so with a writing voice that created both suspense and elegance. A true master."
--ED GORMAN