Around the Bloc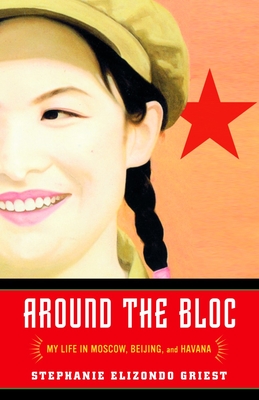 Around the Bloc
My Life in Moscow, Beijing, and Havana
Villard Books, Paperback, 9780812967609, 416pp.
Publication Date: March 9, 2004
* Individual store prices may vary.
Buy at Local Store
Enter your zip code below to purchase from an indie close to you.
or
Buy Here
Description
Desperate to escape South Texas, Stephanie Elizondo Griest dreamed of becoming a foreign correspondent. So she headed to Russia looking for some excitement commencing what would become a four-year, twelve-nation Communist bloc tour that shattered her preconceived notions of the Evil Empire.
In Around the Bloc, Griest relates her experiences as a volunteer at a children's shelter in Moscow, a propaganda polisher at the office of the Chinese Communist Party's English-language mouthpiece in Beijing, and a belly dancer among the rumba queens of Havana. She falls in love with an ex-soldier who narrowly avoided radiation cleanup duties at Chernobyl, hangs out with Cuban hip-hop artists, and comes to difficult realizations about the meaning of democracy.
is the absorbing story of a young journalist driven by a desire to witness the effects of Communism. Along the way, she learns the Russian mathematical equation for buying dinner-party vodka (one bottle per guest, plus an extra), stumbles upon Beijing's underground gay scene, marches with 100,000 mothers demanding Elian Gonzalez's return to Cuba, and gains a new appreciation for the Mexican culture she left behind.
About the Author
Stephanie Elizondo Griest has mingled with the Russian Mafiya, polished Chinese propaganda, and belly danced with Cuban rumba queens. These adventures inspired her award-winning memoir "Around the Bloc: My Life in Moscow, Beijing, and Havana" and guidebook "100 Places Every Woman Should Go". A former Hodder Fellow at Princeton, she won the 2007 Richard J. Margolis Award for social justice reporting. Visit her website at www.mexicanenough.com.
Praise For Around the Bloc…
"Stephanie Elizondo Griest has the soul of an adventurer, the heart of a child, the wit of a jester, and the mind of a wise old woman. Lucky for us, she also has a pen."
-Deborah Copaken Kogan, author of Shutterbabe

"A must-read for every student traveling or studying abroad. Griest's four-year journey through communist capitol cities is an absorbing tale of political, social and personal discovery."
-Marybeth Bond, author Travelers' Tales: Gutsy Women; editor Travelers' Tales: A Woman's World

"A Chicana in China y mas? Who wouldn't want to partake in Stephanie Elizondo Griest's ongoing love affair with adventure? Unlike some travel stories where a smug author painfully tries to convince themselves (and their readers) how well they can adapt to foreign soil, Miss Stephanie, my dear beige sister, confesses full frontal vulnerability. She is the awkward tourist, the savvy traveler and…one hell of a writer! As long as there are books like this, one never needs to redeem mom's frequent flyer points to experience true adventure!"
-Michele Serros, author of How to be a Chicana Role Model and Chicana Falsa

"Forget about J-school. Stephanie Elizondo Griest practices journalism the way it should be practiced. I wish I could have been hiding in her suitcase at each stop along her remarkable journey."
-Tom Miller, author of Trading with the Enemy: A Yankee Travels Through Castro's Cuba and The Panama Hat Trail

"A stunning first. Stephanie Elizondo Griest's memoir is a coming of age odyssey every American should read. Around the Bloc does more than tell a story. It vibrates with humor, insight and honesty -- a rare gem."
-Anchee Min, author of Red Azalea and Becoming Madame Mao

"A delightful and saucy romp through strange places and even stranger states of mind. Griest is not only an inspiration as a traveler and observer–she is darn funny too."
–James O'Reilly, author of Travelers' Tales

"Opening Around the Bloc is rather like popping the cork off a champagne bottle. This book fairly brims over with a refreshing zest and sparkle, which, one imagines, is probably an apt description of its author, as well. Stephanie Elizondo Griest, who embarked on her own Pilgrim's Progress around the world's greatest former (and current) communist capital cities, has written a delightful account of her curious journey. Full of humour, compassion and a great degree of personal candour, Around the Bloc is clearly just the beginning for this gifted young writer."
-Jon Lee Anderson, author of The Lion's Grave