The Tempest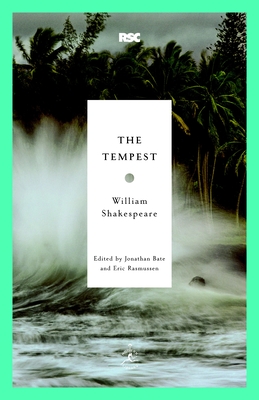 The Tempest
Modern Library, Paperback, 9780812969108, 160pp.
Publication Date: August 12, 2008
* Individual store prices may vary.
Shop Local
Enter your zip code below to find indies closest to you.
Description
Generally believed to be the last play written solely by Shakespeare, "The Tempest "centers on a banished noble who uses sorcery to confront his foes. In this play, Shakespeare offers some of his most insightful meditations on themes ranging from vengeance and forgiveness to nature and nurture.
Under the editorial supervision of Jonathan Bate and Eric Rasmussen, two of today's most accomplished Shakespearean scholars, this Modern Library series incorporates definitive texts and authoritative notes from "William Shakespeare: Complete Works." Each play includes an Introduction, as well as an overview of Shakespeare's theatrical career; commentary on past and current productions based on interviews with leading directors, actors, and designers; scene-by-scene analysis; key facts about the work; a chronology of Shakespeare's life and times; and black-and-white illustrations.
Ideal for students, theater professionals, and general readers, these modern and accessible editions set a new standard in Shakespearean literature for the twenty-first century.
Praise for "William Shakespeare: Complete Works"
A remarkable edition, one that makes Shakespeare's extraordinary accomplishment more vivid than ever.
James Shapiro, professor, Columbia University, bestselling author of "A Year in the Life of Shakespeare: 1599"
Two eminent Shakespeareans . . . have applied modern editing techniques and recent scholarship to correct and update the First Folio. . . . Superb.
" The New York Times"
A feast of literary and historical information.
" The Wall Street Journal"
I look forward to using it over many years, enjoying Bate's perceptive comments, trusting Rasmussen's textual scholarship.
Peter Holland, president of the Shakespeare Association of America and editor of "Shakespeare Survey.
About the Author
Keith Hale is author of the novels Clicking Beat on the Brink of Nada and Letters to a Shooting Star. He has edited an anthology of gay literature from antiquity through the First World War (Ode to Boy), a collection of Lord Byron's love poetry for boys (Edleston), a collection of Rupert Brooke's letters that had been sealed for eighty years due to their homosexual themes (Friends and Apostles), a collection of Georgian Poetry, and editions of poetry by Shakespeare, Housman, and Brooke. Hale wrote the first and perhaps only account of gay life in the Balkans before the walls of Communism crumbled in his travelogue In the Land of Alexander, and he explored how the military's ban on gays affected the life of one ROTC cadet in his book Torn Allegiances. Hale is a native of Mayflower, Arkansas, and also has made his home in Austin, Amsterdam, and Guam.

ERIC RASMUSSEN is Professor of English at the University of Nevada. He is co-editor of the Norton Anthology of English Renaissance Drama and the author of The Shakespeare Thefts. He is the General Textual Editor of the Internet Shakespeare Editions project - one of the most visited Shakespeare websites in the world. Since 1999 he has written the annual review of editions and textual studies for the Shakespeare Survey.

Jonathan Bate is Professor of Shakespeare and Renaissance Literature at the University of Warwick, a Fellow of the British Academy and a Governor of the Royal Shakespeare Company. His books include Shakespeare and Ovid (1993); John Clare: A Biography (2003) - winner of the 2004 Hawthornden Prize and the 2005 James Tait Black Memorial prize for biography; The Genius of Shakespeare (1997); and Soul of the Age: The Life, Mind and World of William Shakespeare (2009). He was the editor of the Arden edition of Shakespeare's Titus Andronicus(1995).