My Bondage and My Freedom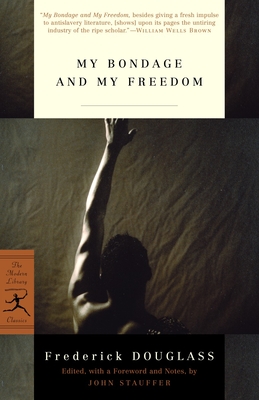 My Bondage and My Freedom
Modern Library, Paperback, 9780812970319, 384pp.
Publication Date: October 14, 2003
* Individual store prices may vary.
Buy Now
or
Shop Local
Enter your zip code below to purchase from an indie close to you.
Description
"My Bondage and My Freedom," writes John Stauffer in his Foreword, "[is] a deep meditation on the meaning of slavery, race, and freedom, and on the power of faith and literacy, as well as a portrait of an individual and a nation a few years before the Civil War." As his narrative unfolds, Frederick Douglass—abolitionist, journalist, orator, and one of the most powerful voices to emerge from the American civil rights movement—transforms himself from slave to fugitive to reformer, leaving behind a legacy of social, intellectual, and political thought. Set from the text of the 1855 first edition, this Modern Library Paperback Classic includes Douglass's original Appendix, composed of excerpts from the author's speeches as well as a letter he wrote to his former master.
About the Author
Sara Douglass was born in Penola, a small farming settlement in the south of Australia, in 1957. She spent her early years chasing (and being chased by) sheep and collecting snakes before her parents transported her to the city of Adelaideand the more genteel surroundings of Methodist Ladies College. Having graduated, Sara then became a nurse on her parents' urging (it was both feminine and genteel) and spent seventeen years planning and then effecting her escape.
That escape came in the form of a Ph.D. in early modern English history. Sara and nursing finally parted company after a lengthy time of bare tolerance, and she took up a position as senior lecturer in medieval European history at the Bendigo campus of the Victorian University of La Trobe. Finding the departmental politics of academic life as intolerable as the emotional rigours of nursing, Sara needed to find another escape.
This took the form of one of Sara's childhood loves - books and writing. Spending some years practising writing novels, HarperCollins Australia picked up one of Sara's novels, "BattleAxe" (published in North America as "The Wayfarer Redemption"), the first in the Tencendor series, and chose it as the lead book in their new fantasy line with immediate success. Since 1995 Sara has become Australia's leading fantasy author and one of its top novelists. Her books are now sold around the world.
Frederick Augustus Washington Bailey (Frederick Douglass) was born a slave in Talbot County, Maryland. He took the name Douglass after escaping from the South in 1838.
As a leader in the abolitionist movement, Douglass was famed for his eloquent yet incisive political writing. And, like his near-contemporary, Booker T. Washington, understood the central importance of education in improving the lives of African Americans, and was therefore an early proponent of desegregation.
A firm believer in equal rights for all, Douglass attended a meeting of the National Council of Women in Washington, D.C., in the hours before his death in February 1895.
John Stauffer is Professor of English and American Literature and Language and Professor of African and African American Studies at Harvard University.
Praise For My Bondage and My Freedom…
"My Bondage and My Freedom, besides giving a fresh impulse to antislavery literature, [shows] upon its pages the untiring industry of the ripe scholar."—William Wells Brown