Selected Stories of H. G. Wells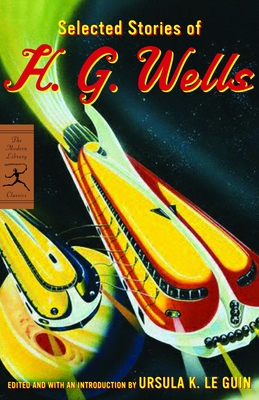 Selected Stories of H. G. Wells
Modern Library, Paperback, 9780812970753, 432pp.
Publication Date: July 13, 2004
* Individual store prices may vary.
Buy at Local Store
Enter your zip code below to purchase from an indie close to you.
or
Buy Here
Description
Ursula K. Le Guin's selection of twenty-six stories showcases H. G. Wells's genius and reintroduces readers to his singular talent for making the unbelievable seem utterly plausible.

He envisioned a sky filled with airplanes before Orville Wright ever left the ground. He described the spectacle of space travel decades before men set foot on the moon. H. G. Wells was a visionary, a man of science with an enduring literary touch, and his originality and inventiveness are fully on display in this essential collection. "Wells imagined both dark and bright futures because his creed allowed both while promising neither, and because the eighty years of his life were years of immense intellectual and technological accomplishment and appalling violence and destruction."--Ursula K. Le Guin, from the introduction

"Everything one imagines in the way of genius and fun."--Rebecca West
About the Author
H. G. Wells was born Herbert George in Bromley, Kent, England, on September 21, 1866. His father was a professional cricketer and sometimes shopkeeper, his mother a former lady's maid. Although "Bertie" left school at fourteen to become a draper's apprentice (a life he detested), he later won a scholarship to the Normal School of Science in London, where he studied with the famous Thomas Henry Huxley. He began to sell articles and short stories regularly in 1893. In 1895, his immediately successful novel rescued him from a life of penury on a schoolteacher's salary. His other "scientific romances"--The Island of Dr. Moreau (1896), The Invisible Man (1897), The War of the Worlds (1898), The First Men in the Moon (1901), and The War in the Air (1908)--won him the distinction as the father of science fiction. Henry James saw in Wells the most gifted writer of the age, but Wells, having coined the phrase "the war that will end war" to describe World War I, became increasingly disillusioned and focused his attention on educating mankind with his bestselling Outline of History (1920) and his later utopian works. Living until 1946, Wells witnessed a world more terrible than any of his imaginative visions, and he bitterly observed: "Reality has taken a leaf from my book and set itself to supercede me." Ursula K. Le Guin was born in Berkeley, California, in 1929. She is the bestselling author of the Earthsea Cycle and the Hainish Cycle, including The Left Hand of Darkness. With the awarding of the 1975 Hugo and Nebula Awards to The Dispossessed, she became the first author to win both awards twice for novels. Le Guin lives in Portland, Oregon.