The Dante Club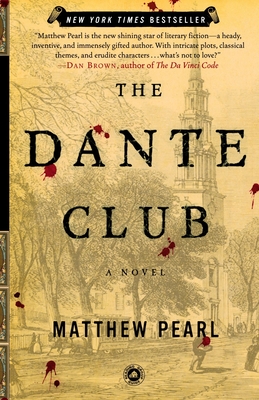 The Dante Club
Random House Trade, Paperback, 9780812971040, 380pp.
Publication Date: February 10, 2004
* Individual store prices may vary.
Buy at Local Store
Enter your zip code below to purchase from an indie close to you.
or
Buy Here
Description
The New York Times Bestseller
Boston, 1865. A series of murders, all of them inspired by scenes in Dante's Inferno. Only an elite group of America's first Dante scholars Henry Wadsworth Longfellow, Oliver Wendell Holmes, James Russell Lowell, and J. T. Fields can solve the mystery. With the police baffled, more lives endangered, and Dante's literary future at stake, the Dante Club must shed its sheltered literary existence and find the killer.
About the Author
Matthew Pearl is the "New York Times" bestselling author of "The Dante Club" and the editor of the Modern Library editions of Dante's Inferno (translated by Henry Wadsworth Longfellow) and Edgar Allen Poe's "The Murder in the Rue Morgue: The Dupin Tales. The Dante Club" has been published in more than thirty languages and forty countries around the world. Pearl is a graduate of Harvard University and Yale Law School and has taught literature at Harvard and at Emerson College. He lives in Cambridge, Massachusetts. He can be reached via his website, www.matthewpearl.com.
Praise For The Dante Club…
"Matthew Pearl is the new shining star of literary fiction -- a heady, inventive, and immensely gifted author. With intricate plots, classical themes, and erudite characters…what's not to love?"
-Dan Brown

"Working on a vast canvas, Mr. Pearl keeps this mystery sparkling with erudition... with this captivating brain teaser as his debut novel, seems also to have put his life's work on the line in melding scholarship with mystery. He does justice to both." -Janet Maslin, The New York Times
"Audacious and captivating."
-Adrienne Miller, Esquire

"Mr. Pearl's triumph is mixing these two cultures: wealthy, cultivated men of letters faced with the mysterious and seedy streets of a 19th-century Boston... creating not just a page-turner but a beguiling look at the U.S. in an era when elites shaped the course of learning and publishing. With this story of the Dante Club's own descent into hell, Mr. Pearl's book will delight the Dante novice and expert alike." -Kimberley Strassel, The Wall Street Journal
"Pearl, a graduate of Harvard and Yale Law School and a Dante scholar, ably meshes the literary analysis with a suspenseful plot and in the process humanizes the historical figures... A divine mystery."
-Julie K. L. Dam, People Magazine (Page Turner of the Week)

"Just about anyone who admires smart historical fiction will get a literary jolt out of Matthew Pearl's gory first novel... His Civil War memory fragments alone add up to one of the most unforgettable accounts of that chapter of American history yet written." -Celia McGee, The New York Daily News
"How the club and the police compete and then converge is the mystery and the thrill in a preternaturally accomplished book as wise as it is entertaining. 'The Dante Club' is a carefully plotted, imaginatively shaped, and stylistically credible whodunit of unusual class and intellect... The writing is passionate, the narrative driven."
-Carlo Wolff, The Boston Globe

"Pearl has achieved that intoxicating blend of reality and imagination that Doctorow gave us 25 years ago with Ragtime. Here's hoping Pearl decides to spend his career writing novels and letting that Yale law degree go to waste. The world has enough lawyers. Great novelists are in short supply."
-William Mckeen, The Orlando Sentinel

"Pearl masterfully synthesizes countless aspects of mid-19th-century life into a riveting mystery that creeps through all corners of crippled postwar Boston. To steal a revelation from the book: Lucifer did not create hell; it was Dante. In The Dante Club, Pearl adds one more diabolical ring."
-Christopher Bollen, Time Out (New York)

"This novel is as erudite as it is bloody. It swings from an account of exotic maggots eating a man alive to a discussion of the finer points of Dante's artistic and political vision. The Dante Club is a unique, ambitious, entertaining read, a historical thriller with a poetic streak."
-Chris Kidler, The Baltimore Sun

"'The Dante Club' is a richly detailed microcosm set generously before us. Within it, wit, erudition and a healthy respect for good old fashioned hugger-mugger conspire to produce one of this year's most agreeable entertainments."
-Bruce Allen, Raleigh News & Observer

"Pearl does what a good historical novelist has to do: Look at the past by the light of the imagination, creating a fictional situation -- there was of course no actual Dante killer in 1865 Boston -- to animate the ideas, issues and personalities of the time... There aren't many writers around who can remind you of both James Patterson and Umberto Eco."
-Charles Matthews, San Jose Mercury News

"Young author finds a 'Pearl' in mystery. Boston winters are cruel, and Matthew Pearl captures every icy finger of wind, every sinister shadow and more than a few human-induced chills in 'The Dante Club'... Pearl is a young author worth following. He's created a work that should appeal to history buffs, literary buffs and crime fiction fans alike."
-Robin Vidimos, The Denver Post

"A hell of a first novel... The Dante Club delivers in spades."
-David Lazarus, The San Francisco Chronicle

"The Dante Club is a thoroughly accomplished first novel. Matthew Pearl does a marvelous job of evoking the period and making it come alive with finely drawn characters and an ingenious story."
-David Liss, Edgar Award–winning author of A Conspiracy of Paper

"A fascinating, erudite, and highly entertaining account of a remarkable moment in American literary history."
-Iain Pears, author of An Instance of the Fingerpost

"In The Dante Club, Matthew Pearl expertly combines rollicking entertainment with serious insights about Civil War–era America. The book is fun, smart, and enviably audacious."
-Darin Strauss, author of Chang & Eng and The Real McCoy

"This first-rate thriller breathes such life into the genre that the term 'thrilling' genuinely applies. Matthew Pearl not only succeeds with a deft and elegant plot, but delivers an eloquent and quirky message for our times about the value of literary heroes. In The Dante Club we are privileged to meet the most unlikely quartet of sleuths."
-Gregory Maguire, author of Wicked and Lost

"The Dante Club is pure pleasure for the reader, magnificently informed without being stuffy, gripping without being merely sensational. I particularly enjoyed the nice, easy swing of its pacing. This book can be savored."
-Peter Straub, co-author of Black House

"An ambitious and entertaining thriller that may remind readers of Caleb Carr."
-Publishers Weekly

"Expertly weaving period detail, historical fact, complex character studies, and nail-biting suspense, Pearl has written a unique and utterly absorbing tale."
-Booklist Magazine (starred)

"Matthew Pearl's dazzler of a debut novel, The Dante Club, is just what an historical thriller should be--a creative combo of edge-of-your-seat suspense, fully imagined characters, fictional and real, and an evocative, well-researched, well-realized setting"
-Bookpage Magazine

"A devil of a time... Ingenious use of details and motifs from the Divine Comedy, and a lively picture of the literary culture of post-bellum New England, distinguish this juicy debut historical mystery."
-Kirkus Reviews (starred)

"Absorbing and dramatic... Pearl has proven himself a master."
-Library Journal