Reading Lolita in Tehran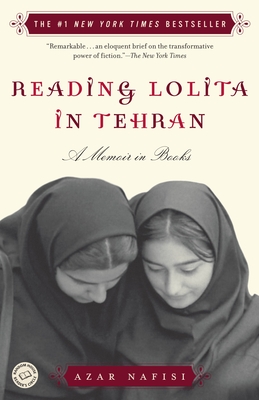 Reading Lolita in Tehran
A Memoir in Books
Random House Trade, Paperback, 9780812971064, 356pp.
Publication Date: December 30, 2003
* Individual store prices may vary.
Buy at Local Store
Enter your zip code below to purchase from an indie close to you.
or
Buy Here
Description
Every Thursday morning for two years in the Islamic Republic of Iran, a bold and inspired teacher named Azar Nafisi secretly gathered seven of her most committed female students to read forbidden Western classics. As Islamic morality squads staged arbitrary raids in Tehran, fundamentalists seized hold of the universities, and a blind censor stifled artistic expression, the girls in Azar Nafisi's living room risked removing their veils and immersed themselves in the worlds of Jane Austen, F. Scott Fitzgerald, Henry James, and Vladimir Nabokov. In this extraordinary memoir, their stories become intertwined with the ones they are reading. "Reading Lolita in Tehran" is a remarkable exploration of resilience in the face of tyranny and a celebration of the liberating power of literature.
About the Author
Azar Nafisi is the #1 "New York Times" bestselling author of "Reading Lolita in Tehran "and" Things I ve Been Silent About." A passionate advocate of books and reading, she appears regularly on major media and speaks to packed audiences around the world. She lives in Washington, D.C.
Praise For Reading Lolita in Tehran…
"Anyone who has ever belonged to a book group must read this book. Azar Nafisi takes us into the vivid lives of eight women who must meet in secret to explore the forbidden fiction of the West. It is at once a celebration of the power of the novel and a cry of outrage at the reality in
which these women are trapped. The ayatollahs don' t know it, but Nafisi is one of the heroes of the Islamic Republic."
—Geraldine Brooks, author of Nine Parts of Desire

"I was enthralled and moved by Azar Nafisi's account of how she defied, and helped others to defy, radical Islam's war against women. Her memoir contains important and properly complex reflections about the ravages of theocracy, about thoughtfulness, and about the ordeals of freedom—as well as a stirring account of the pleasures and deepening of consciousness that result from an encounter with great literature and with an inspired teacher."
—Susan Sontag

"When I first saw Azar Nafisi teach, she was standing in a university classroom in Tehran, holding a bunch of red fake poppies in one hand and a bouquet of daffodils in the other, and asking, "What is kitsch?" Now, mesmerizingly, she reveals the shimmering worlds she created in those classrooms,
inside a revolution that was an apogee of kitsch and cruelty. Here, people think for themselves because James and Fitzgerald and Nabokov sing out against authoritarianism and repression. You will be taken inside a culture, and on a journey, that you will never forget."
—Jacki Lyden, National Public Radio, author of Daughter of the Queen of Sheba

"A memoir about teaching Western literature in revolutionary Iran, with profound and fascinating insights into both. A masterpiece."
—Bernard Lewis, author of The Crisis of Islam?

"[A] vividly braided memoir...anguished and glorious."
–Cynthia Ozick, The New Republic

"Stunning...a literary life raft on Iran's fundamentalist sea...All readers should read it."
–Margaret Atwood

"Remarkable...an eloquent brief on the transformative power of fiction."
—The New York Times

"Certain books by our most talented essayists...carry inside their covers the heat and struggle of a life's central choice being made and the price being paid, while the writer tells us about other matters, and leaves behind a path of sadness and sparkling loss. Reading Lolita in Tehran is such a book."
–Mona Simpson, The Atlantic Monthly