The Spooky Art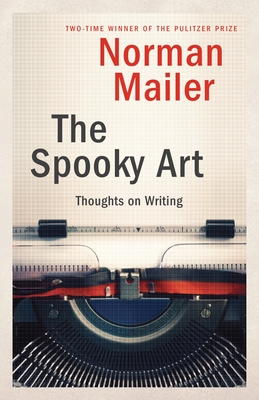 The Spooky Art
Thoughts on Writing
Random House Trade, Paperback, 9780812971286, 352pp.
Publication Date: February 10, 2004
* Individual store prices may vary.
Shop Local
Enter your zip code below to find indies closest to you.
Description
"Writing is spooky," according to Norman Mailer. "There is no routine of an office to keep you going, only the blank page each morning, and you never know where your words are coming from, those divine words." In "The Spooky Art, "Mailer discusses with signature candor the rewards and trials of the writing life, and recommends the tools to navigate it. Addressing the reader in a conversational tone, he draws on the best of more than fifty years of his own criticism, advice, and detailed observations about the writer's craft.
Praise for "The Spooky Art"
" "
""The Spooky Art "shows Mailer's brave willingness to take on demanding forms and daunting issues. . . . He has been a thoughtful and stylish witness to the best and worst of the American century."--"The Boston Globe"
"At his best--as artists should be judged--Mailer is indispensable, an American treasure. There is enough of his best in this book for it to be welcomed with gratitude."--"The Washington Post"
" "
" "The Spooky Art"] should nourish and inform--as well as entertain--almost any serious reader of the novel."--Baltimore "Sun"
"The richest book ever written about the writer's subconscious."--"The Philadelphia Inquirer"
"Striking . . . entrancingly frank."--"Entertainment Weekly"
Praise for Norman Mailer
" Norman Mailer] loomed over American letters longer and larger than any other writer of his generation."--"The New York Times"
"A writer of the greatest and most reckless talent."--"The New Yorker"
"A devastatingly alive and original creative mind."--"Life"
"Mailer is fierce, courageous, and reckless and nearly everything he writes has sections of headlong brilliance."--"The New York Review of Books"
"The largest mind and imagination in modern] American literature . . . Unlike just about every American writer since Henry James, Mailer has managed to grow and become richer in wisdom with each new book."--"Chicago Tribune"
"Mailer is a master of his craft. His language carries you through the story like a leaf on a stream."--"The Cincinnati Post"
"From the Hardcover edition.
About the Author
Norman Mailer's first novel, "The Naked and the Dead", is widely regarded as one of the finest American novels of the twentieth century. Among Norman Mailer's other achievements are "Why Are We in Vietnam?, The Armies of the Night", for which he was awarded a Pulitzer Prize and the National Book Award in 1968, and "The Executioner's Song", which won the 1980 Pulitzer Prize.
Praise For The Spooky Art…
Praise for The Spooky Art
 
"The Spooky Art shows Mailer's brave willingness to take on demanding forms and daunting issues. . . . He has been a thoughtful and stylish witness to the best and worst of the American century."—The Boston Globe
 
"At his best—as artists should be judged—Mailer is indispensable, an American treasure. There is enough of his best in this book for it to be welcomed with gratitude."—The Washington Post
 
"[The Spooky Art] should nourish and inform—as well as entertain—almost any serious reader of the novel."—Baltimore Sun

"The richest book ever written about the writer's subconscious."—The Philadelphia Inquirer
 
"Striking . . . entrancingly frank."—Entertainment Weekly
 
Praise for Norman Mailer
 
"[Norman Mailer] loomed over American letters longer and larger than any other writer of his generation."—The New York Times
 
"A writer of the greatest and most reckless talent."—The New Yorker
 
"A devastatingly alive and original creative mind."—Life
 
"Mailer is fierce, courageous, and reckless and nearly everything he writes has sections of headlong brilliance."—The New York Review of Books
 
"The largest mind and imagination [in modern] American literature . . . Unlike just about every American writer since Henry James, Mailer has managed to grow and become richer in wisdom with each new book."—Chicago Tribune
 
"Mailer is a master of his craft. His language carries you through the story like a leaf on a stream."—The Cincinnati Post