Spoiled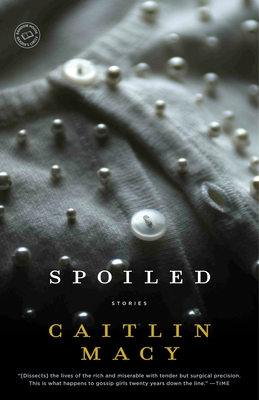 Spoiled
Random House Trade, Paperback, 9780812971729, 232pp.
Publication Date: August 3, 2010
* Individual store prices may vary.
Buy Now
or
Shop Local
Enter your zip code below to purchase from an indie close to you.
Description
A young woman does a good deed for her nanny, only to have it go horribly wrong. A newly married woman struggles to gain the upper hand with her self-assured cleaning woman. An anxious woman desperate for an authentic experience makes a rash decision to leave the grounds of her Moroccan luxury hotel. In this sophisticated and provocative story collection, acclaimed author Caitlin Macy turns her unsparing eye on well-heeled thirtysomething women who, despite their education and affluence, struggle to keep their footing in their relationships with their friends, spouses, and children—not to mention their help. Full of surprising, sometimes shocking insights and brimming with outrage and compassion, Spoiled is a remarkable collection from a boldly talented writer.
About the Author
Caitlin Macy graduated from Yale and received her MFA in creative writing from Columbia. She has been published in The New York Times Magazine and Slate. She lives in New York.
Praise For Spoiled…
"I was completely captivated by these keenly observed, superbly written stories. Caitlin Macy's characters are educated, strong-willed, and sometimes difficult girls and women who alternate, as all of us do, between lying to themselves and facing the truth. Macy's depiction of them, set against a very contemporary backdrop of class, gender, urbanism, and ambition, is so entertaining that it's easy to overlook how well-crafted this collection is. I'm hugely impressed and plan to recommend Spoiled to all my friends."—Curtis Sittenfeld, author of American Wife

"Who else today writes so accurately about the impossibilities of privilege as Caitlin Macy? Packed with real wit and genuine rage, Spoiled is a gin-flavored litmus test, a social X ray set on stun, a grand entertainment, an argument starter. These deft morality tales grip us like the best gossip–then jolt us into feeling."—Ed Park, author of Personal Days

"Macy is a writer [Edith] Wharton might well approve of . . . Her prose is tidy, assured, and graceful, and its restraint lends this book an old-fashioned clarity and confidence . . . In the end, these stories aren't about money so much as they are about wanting, be it naked or sublimated, and about the distance between anxious women and their resolutely logical, maddeningly literal-minded men—and that's what transmutes this book into an enjoyable read even for those of us who will never use the word summer as a verb."—Elle

"An impressive, psychologically nuanced collection of stories on class and gender in New York . . . Sophisticated and intelligent, Macy offers the kind of subtlety that turns the ordinary into the sublime."—Kirkus Reviews, starred

"Superb . . . Issues of class and femininity are woven throughout many of these tales, and often make for interesting perceptions and sly conclusions."—Booklist

"Rewarding . . . Macy is especially adept at slyly pointing out the absurdities inherent in a social set where renting a summerhouse is a source of shame."—Publishers Weekly

"This eloquent collection illuminates subtle class distinctions and lends insight into lives fraught with self-inflicted vulnerabilities . . . Spending time in Macy's world is like tasting your first caviar: more potent than you expect, and yet you want more."—People, four stars

"Husbands, wives, nannies and children orbit one another in the cold moral vacuum of the uptown Manhattan. Caitlin Macy's stories dissect the lives of the rich and miserable with tender but surgical precision. This is what happens to gossip girls 20 years down the line."—Time

"Wickedly smart, unwittingly timely…[Macy] attains a wonderfully transgressive Cheever-like honesty."—Vogue

"Wise and cryptic…Intriguing…Sharply insightful."—New York Times

"Extremely entertaining."—Los Angeles Times

"Jaggedly funny…Macy can locate class anxiety in a single word…Fascinating…At a time when it's become almost déclassé to trumpet the spoils of wealth, it's good to be reminded in such minute detail what they are."—Bloomberg

"[Macy] has an aptitude for anthropological apprehension, that dark, pith-helmet-wearer's art of classifying people by their habits and social markers."—New York Times

"Laser-sharp…probes the heartbreak of high expectations, the self-hatred that can go hand and hand with a ferocious sense of entitlement. Read it and squirm."—O Magazine