Nobodies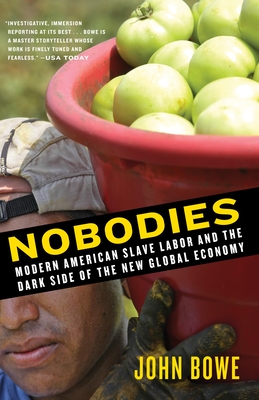 Nobodies
Modern American Slave Labor and the Dark Side of the New Global Economy
Random House Trade, Paperback, 9780812971842, 304pp.
Publication Date: August 19, 2008
* Individual store prices may vary.
Buy at Local Store
Enter your zip code below to purchase from an indie close to you.
or
Buy Here
Description
Most Americans are shocked to discover that slavery still exists in the United States. Yet 145 years after the Emancipation Proclamation, the CIA estimates that 14,500 to17,000 foreigners are trafficked annually into the United States, threatened with violence, and forced to work against their will. Modern people unanimously agree that slavery is abhorrent. How, then, can it be making a reappearance on American soil?
Award-winning journalist John Bowe examines how outsourcing, subcontracting, immigration fraud, and the relentless pursuit of everyday low prices have created an opportunity for modern slavery to regain a toehold in the American economy. Bowe uses thorough and often dangerous research, exclusive interviews, eyewitness accounts, and rigorous economic analysis to examine three illegal workplaces where employees are literally or virtually enslaved. From rural Florida to Tulsa, Oklahoma, to the U.S. commonwealth of Saipan in the Western Pacific, he documents coercive and forced labor situations that benefit us all, as consumers and stockholders, fattening the profits of dozens of American food and clothing chains, including Wal-Mart, Kroger, McDonald's, Burger King, PepsiCo, Del Monte, Gap, Target, JCPenney, J. Crew, Polo Ralph Lauren, and others.
In this eye-opening book, set against the everyday American landscape of shopping malls, outlet stores, and Happy Meals, Bowe reveals how humankind's darker urges remain alive and well, lingering in the background of every transaction and what we can do to overcome them.
Praise for Nobodies:
Investigative, immersion reporting at its best . . . Bowe is a master storyteller whose work is finely tuned and fearless.
"USA Today "
A brilliant and readable tour of the modern heart of darkness, "Nobodies" takes a long, hard look at what our democracy is becoming.
Thomas Frank, author of "What's the Matter with Kansas?"
Bowe dramatizes in gripping detail these stolen lives.
"O: The Oprah Magazine"
The vividness of Bowe's local stories might make you think twice before reaching for that cheap fruit or pair of discount socks.
"Conde Nast Portfolio"
NAMED ONE OF THE TWENTY BEST BOOKS OF THE YEAR BY "THE VILLAGE VOICE.
About the Author
John Bowe has contributed to "The New Yorker", "GQ", "The New York Times Magazine", " "and "This American Life", among others. He is editor of "Us: Americans Talk About Love, "co-editor of "Gig: Americans Talk About Their Jobs", co-screenwriter of the film "Basquiat", and author of "Nobodies", a book on modern American slave labor.