Pandora's Seed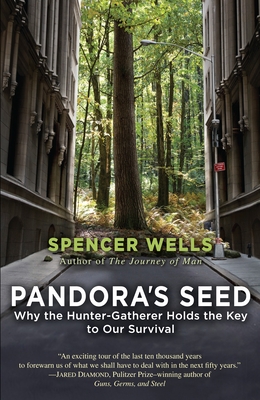 Pandora's Seed
Why the Hunter-Gatherer Holds the Key to Our Survival
Random House Trade, Paperback, 9780812971910, 256pp.
Publication Date: September 13, 2011
* Individual store prices may vary.
Buy at Local Store
Enter your zip code below to purchase from an indie close to you.
or
Not Currently Available for Direct Purchase
Description
Ten thousand years ago, our species made a radical shift in its way of life: We became farmers rather than hunter-gatherers. Although this decision propelled us into the modern world, renowned geneticist and anthropologist Spencer Wells demonstrates that such a dramatic change in lifestyle had a downside that we re only now beginning to recognize. Growing grain crops ultimately made humans more sedentary and unhealthy and made the planet more crowded. The expanding population and the need to apportion limited resources created hierarchies and inequalities. Freedom of movement was replaced by a pressure to work that is the forebear of the anxiety millions feel today. Spencer Wells offers a hopeful prescription for altering a life to which we were always ill-suited. "Pandora's Seed" is an eye-opening book for anyone fascinated by the past and concerned about the future.
About the Author
Spencer Wells is an Explorer-in-Residence at the National Geographic Society and the director of the Genographic Project. After studying under genetic pioneer Luigi Cavalli-Sforza at Stanford University, he began an unusual career that mixes science, writing, and filmmaking. His acclaimed first book, "The Journey of Man," combined his own DNA research with the work of archaeologists, paleoanthropologists, paleoclimatologists, and linguists to show how modern humans came to populate the planet.
Praise For Pandora's Seed…
"Spencer Wells takes us on an exciting tour of the last ten thousand years of our history in order to forewarn us of what we shall have to deal with in the next fifty years."—Jared Diamond, professor of geography at UCLA and Pulitzer Prize–winning author of Guns, Germs, and Steel

"An important book for our times . . . If Spencer Wells continues producing books like this, he has the potential to become a pop anthropology guru like Margaret Mead, whose work engendered much good. The world needs to know not only how to want less, but also about how to want the things that will take us into the next ten millennia."—New York Journal of Books

"Civilisation is the problem, not the solution. . . . Wells combines a cogent account of human evolution with an urgent call for global cultural  reform."—The Times (London)

"The seed from Pandora's box is spread far and wide in this stimulating and enjoyable book."—Financial Times

"Wells's writing combines a deep knowledge of the history of human evolution with a most engaging and lively manner of making that story come alive."—Henry Louis Gates, Jr., Alphonse Fletcher University Professor at Harvard University and author of Tradition and the Black Atlantic
 
"Well written . . . full of detail and fascinating anecdotes."—New Scientist