Hard News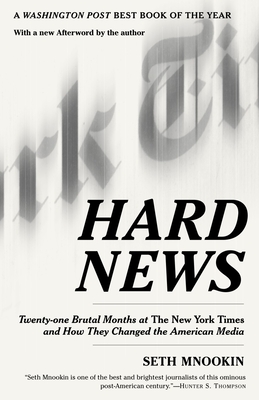 Hard News
Twenty-One Brutal Months at the New York Times and How They Changed the American Media
Random House Trade, Paperback, 9780812972511, 340pp.
Publication Date: August 9, 2005
* Individual store prices may vary.
Buy at Local Store
Enter your zip code below to purchase from an indie close to you.
or
Not Currently Available for Direct Purchase
Description
On May 11, 2003, "The New York Times" devoted four pages of its Sunday paper to the deceptions of Jayson Blair, a mediocre former "Times" reporter who had made up stories, faked datelines, and plagiarized on a massive scale. The fallout from the Blair scandal rocked the "Times" to its core and revealed fault lines in a fractious newsroom that was already close to open revolt.
Staffers were furious about the perception that management had given Blair more leeway because he was black, about the special treatment of favored correspondents, and most of all about the shoddy reporting that was infecting the most revered newspaper in the world. Within a month, Howell Raines, the imperious executive editor who had taken office less than a week before the terrorist attacks of September 11, 2001 and helped lead the paper to a record six Pulitzer Prizes for its coverage of the attacks had been forced out of his job.
Having gained unprecedented access to the reporters who conducted the Times's internal investigation, top newsroom executives, and dozens of Times editors, former "Newsweek" senior writer Seth Mnookin lets us read all about it the story behind the biggest journalistic scam of our era and the profound implications of the scandal for the rapidly changing world of American journalism.
It's a true tale that reads like Greek drama, with the most revered of American institutions attempting to overcome the crippling effects of a leader's blinding narcissism and a low-level reporter's sociopathic deceptions. "Hard News" will shape how we understand and judge the media for years to come.
"From the Hardcover edition.
About the Author
Seth Mnookin is a contributing editor at "Vanity Fair" and a former senior writer for "Newsweek, " where he covered media, politics, and popular culture. His writing has appeared in "The Washington Post, New York" magazine, and many other publications. He is the author of "The Panic Virus: A True Story of Medicine, Science, and Fear;""Feeding the Monster: ""How Money, Smarts, and Nerve Took a Team to the Top "and" Hard News: The Scandals at "The New York Times "and Their Meaning for American Media". He lives in Brooklyn, New York.
Praise For Hard News…
"Seth Mnookin is one of the best and brightest journalists of this ominous post-American century. And here he's written the book that's the answer to the question I've been wondering about for a long time: How could something like this happen at The New York Times, a paper the country desperately needs to survive."
–HUNTER S. THOMPSON

"I read Hard News in a single sitting, long into the night. Seth Mnookin has written a gripping narrative, a thoughtful media study, and a fascinating portrait of some very strange characters. This book is undoubtedly the last word on a low moment in the history of a great institution."
--JEFFREY TOOBIN

"This is two terrific books in one: a riveting thriller, starring a heroic Dirty Dozen team of reporters risking their careers to unearth dangerous truths, and a Shakespearean tragedy about hubris and race and good intentions and self-destruction featuring a pathetic, half-mad villain and a noble, deluded king. Seth Mnookin has written the definitive chronicle of this extraordinary upheaval at the most important newspaper on earth. But Hard News is also a heartening reminder that some powerful institutions take virtue seriously, and can right themselves quickly when things go awry."
–KURT ANDERSEN

"In Hard News, a con man is the center of attention, but the ideal of 'getting it right' is the book's true heart. This is a juicy morality tale for the information age."
–SARAH VOWELL
Friday, May 16, 2014
The New York Times made news this week when it announced Jill Abramson's departure. For a deeper understanding of the paper's history, author Kevin Roose recommends Hard News by Seth Mnookin. More at NPR.org