The Company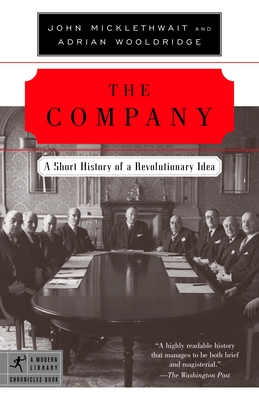 The Company
A Short History of a Revolutionary Idea
Modern Library, Paperback, 9780812972870, 272pp.
Publication Date: January 11, 2005
* Individual store prices may vary.
Buy at Local Store
Enter your zip code below to purchase from an indie close to you.
or
Buy Here
Description
Chosen by "BusinessWeek" as One of the Top Ten Business Books of the Year
"
"With apologies to Hegel, Marx, and Lenin, the basic unit of modern society is neither the state, nor the commune, nor the party; it is the company. From this bold premise, John Micklethwait and Adrian Wooldridge chart the rise of one of history's great catalysts for good and evil.
In a fast-paced and well-written work ("Forbes"), the authors reveal how innovations such as limitations on liability have permitted companies to rival religions and even states in importance, governing the flow of wealth and controlling human affairs all while being largely exempt from the rules that govern our lives.
"The Company" is that rare, remarkable book that fills a major gap we scarcely knew existed. With it, we are better able to make sense of the past four centuries, as well as the events of today.
About the Author
Both John Micklethwait and Adrian Wooldridge were educated at Oxford and went on to work for The Economist. John Micklethwait has overseen the magazine's Los Angeles and New York bureaus and is now its U.S. editor. Adrian Wooldridge has served as West Coast correspondent, social-policy correspondent, and management editor, and is currently Washington, D.C., correspondent. Together, they have coauthored three books, The Witch Doctors, A Future Perfect: The Challenge and Hidden Promise of Globalisation, and The Company: A Short History of a Revolutionary Idea.

Adrian Wooldridge is the management editor and Schumpeter columnist of The Economist. He was educated at Balliol College, Oxford, and All Souls College, Oxford, where he held a Prize Fellowship. He was formerly The Economist s Washington bureau chief and Lexington columnist. He is the coauthor, with John Micklethwait, of five books including The Witch Doctors: Making Sense of the Management Gurus; A Future Perfect: The Challenge and Hidden Promise of Globalization; The Company: A Short History of a Revolutionary Idea; and The Right Nation: Conservative Power in America and the author of Measuring the Mind: Education and Psychology in England c.1860-1990.
Praise For The Company…
Praise for The Company by John Micklethwait and Adrian Wooldridge


"Remarkable . . . True believers in the free market faith and heretics alike will profit from knowing this history."
–San Francisco Chronicle

"A swashbuckling journey through the past and into the future of the modern company."
–Los Angeles Times

The authors take up [the corporation's] tale with brio and wit . . . . Worthwhile for almost anyone with an interest in the subject."
–The Wall Street Journal

"The limited-liability joint-stock company is a very marvel of the modern world economy, a historical force to rival religions, monarchies, and even states. The Company tells the colorful story of its birth and maturation—and its pervasive social and cultural consequences—with rare concision and flair."
—David M. Kennedy, author of Freedom from Fear and professor of history at Stanford University

"A fascinating and delightful investigation both of how the guilds and 'corporate persons' of the Middle Ages turned into the institution from which so many people today directly and indirectly earn their daily bread and of the issues facing the company in the twenty-first century."
—Daniel Yergin, author of The Prize and coauthor of The Commanding Heights: The Battle for the World Economy