The Secret Agent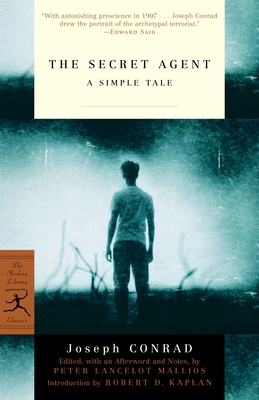 The Secret Agent
A Simple Tale
Modern Library, Paperback, 9780812973051, 352pp.
Publication Date: December 14, 2004
* Individual store prices may vary.
Buy at Local Store
Enter your zip code below to purchase from an indie close to you.
or
Not Currently Available for Direct Purchase
Description
Selected by the Modern Library as one of the 100 best novels of all time
Edited and with Notes by Peter Lancelot Mallios
Introduction by Robert D. Kaplan
In reexamining "The Secret Agent" in a post-9/11 world, Robert D. Kaplan praises Joseph Conrad's surgical insight into the mechanics of terrorism, calling the book a fine example of how a savvy novelist may detect the future long before a social scientist does.
This intense 1907 thriller a precursor to works by Graham Greene and John le Carre concerns a British double agent who infiltrates a cabal of anarchists. Conrad explores political and criminal intrigue in a modern society, building to a climax that the critic F. R. Leavis deemed one of the most astonishing triumphs of genius in fiction.
About the Author
Polish author Joseph Conrad is considered to be one of the greatest English-language novelists, a remarkable achievement considering English was not his first language. Conrad s literary works often featured a nautical setting, reflecting the influences of his early career in the Merchant Navy, and his depictions of the struggles of the human spirit in a cold, indifferent world are best exemplified in such seminal works as Heart of Darkness, Lord JimM, The Secret Agent, Nostromo, and Typhoon. Regarded as a forerunner of modernist literature, Conrad s writing style and characters have influenced such distinguished writers as F. Scott Fitzgerald, Ernest Hemingway, William S. Burroughs, Hunter S. Thompson, and George Orwell, among many others. Many of Conrad s novels have been adapted for film, most notably Heart of Darkness, which served as the inspiration and foundation for Francis Ford Coppola s 1979 film Apocalypse Now.



Robert D. Kaplan, a correspondent for" The Atlantic Monthly", is the author of more than a dozen books on travel and foreign affairs that have been translated into many languages. They included "Eastward to Tartary: Travels in the Balkans, the Middle East, and the Caucasus "and "Balkan Ghosts: A Journey Through History."