Queen of the Turtle Derby and Other Southern Phenomena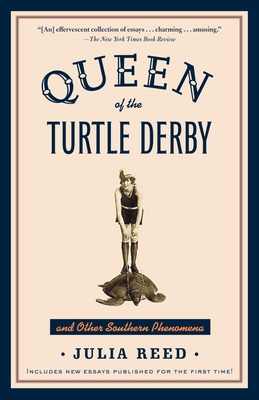 Queen of the Turtle Derby and Other Southern Phenomena
Random House Trade, Paperback, 9780812973617, 240pp.
Publication Date: April 12, 2005
* Individual store prices may vary.
Buy at Local Store
Enter your zip code below to purchase from an indie close to you.
or
Buy Here
Description
In classic Dixie storytelling fashion, with a rare blend of literary elegance and plainspoken humor, the inimitably charming, staunchly Southern Julia Reed wends her way below the Mason-Dixon line and observes many phenomena from politics, religion, and women to weather, guns, and what she calls drinking and other Southern pursuits. To hear Reed tell it, the South is another country. She builds an entertaining and persuasive case, using as examples everything from its unfathomable codes of conduct to its disciplined fashion sense. And then there is Southern food, which is an entire world apart: Gumbo, grits, greens, and, of course, fried chicken make memorable appearances in Reed's essays, which will amuse, delight, and even explain a thing or two to baffled Yankees everywhere.
About the Author
Julia Reed is a contributing editor at "Vogue" and "Newsweek", where she writes the magazine's Food and Drink column. She is author of "Queen of the Turtle Derby and Other Southern Phenomena" and "The House on First Street, My New Orleans Story". Reed divides her time between New Orleans and New York City.
Praise For Queen of the Turtle Derby and Other Southern Phenomena…
"[A] rambunctiously charming essay collection . . . as refreshing and bracing as a mint julep . . . Even the most hopeless Yankee will have no trouble getting in touch with her inner Poultry Princess."
–Vogue

"[An] effervescent collection of essays . . . charming . . . amusing."
–The New York Times Book Review

"Julia Reed is right on target about the South-its food, its hair, its guns, its pests, even the tendency of southern women to kill their husbands and get away with it. She's clear-eyed, raucously funny, and a natural story teller, which makes her something of a southern phenomenon herself."
-John Berendt, author of Midnight in the Garden of Good and Evil

"Julia Reed's affectionate and hilarious observations of the Deep South and Southerners past and present are a delight to read."
–Fannie Flagg, author of Standing in the Rainbow

"Julia Reed is a Southern original. Her writing is funny and addictive, blending the street smarts of Greenville, Mississippi, where 'girls are taught to drink Scotch and smoke cigarettes and drive a car by the time they are twelve,' with the sophistication of a globe-trotting journalist. Julia's favorite subjects are Southern--fashion, politics, and above all food, which she describes with irresistable affection, knowledge and delight. If you've ever doubted that Southern food is our greatest gastronomic treasure, be prepared to learn the truth."
-Jeffrey Steingarten, author of It Must Have Been Something I Ate

"Queen of the Turtle Derby and Other Southern Phenomena will be a delight for all Southern readers (all about our favorite subject–us) and an educational tome for Unfortunate Others. It helps explain that We are, after all, just like Them–only funnier and better-looking."
-Jill Conner Browne, The Sweet Potato Queens' Big-Ass Cookbook (and Financial Planner)

"I had some crab dip that Julia Reed made once that I would have eaten all of in one sitting, if I had been sitting, and if the other party guests hadn't dragged me off of it. This book is that good."
-Roy Blount Jr., author of author of Crackers and If Only You Knew How Much I Smell You

"Not since Eudora Welty has anybody captured in such sophisticated, often mordant prose the brave, gracious, perverse, reckless, God-fearing Southern soul like Julia reed. Whether she's holding forth on fried chicken and catfish, guns, booze, cockfights, pestilence, or Southern womanhood, Reed loads both barrels and never misses the target. As a Carolina Tarheel, I rejoiced, cringed, marveled, and laughed myself sick at Reed's outrageous tales and savvy insights, and I defy anybody–Southerner and Yankee alike–to come up for are after reading the first chapter."
-James Villas, author of Between Bites and My Mother's Southern Kitchen

"This is a wise and tender book. Julia Reed is a loving defender of the South. Long may she live and write. She understands the deep seriousness that underlies our Scotch-Irish, English, and African roots."
-Ellen Gilchrist, author of I, Rhoda Manning, Go Hunting With My Daddy: And Other Stories