Mr. Beluncle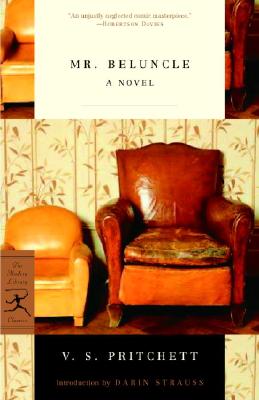 Mr. Beluncle
Modern Library, Paperback, 9780812973792, 336pp.
Publication Date: January 4, 2005
* Individual store prices may vary.
Not Currently Available for Direct Purchase
or
Shop Local
Enter your zip code below to purchase from an indie close to you.
Description
"Like most great comedy," writes Darin Strauss in his Introduction, "Mr. Beluncle makes sport of the Stuffed Shirt, the Hypocritical Pious Gentleman, and the Tyrant, as well as the Big Spender–and all these descriptions fit a single character: Mr. Beluncle himself." One of V. S. Pritchett's most enduring characters, Mr. Beluncle is narcissistic, sanctimonious, and self-indulgent, yet despite these flaws he is undeniably compelling. Readers who follow this quirky British furniture salesman on his seemingly ordinary escapades–shopping for ridiculously expensive houses, attending services at his peculiar church, presiding over a tumultuous family meal–are in for a delightful and disquieting ride. Poignant, hilarious, and utterly unforgettable Mr. Beluncle is an ideal introduction to one of the English language's most gifted authors.
About the Author
On both sides of the Atlantic V.S. Pritchett has been acclaimed as one of the great masters of the short story. He is also distinguished as a critic and a traveller. Born in Suffolk in 1900, he left school at the age of sixteen to work in the leather trade in London. In the Twenties in Paris he worked as a shop assistant and as a shellac salesman, and took to journalism, first during the Irish Civil War and later in Spain. His first book", Marching Spain", the account of a long walk from Badajoz to Vigo, was published in 1928 and from then on travel was his recreation, inspiring evocations of places and peoples in "The Spanish Temper" (1954) and "London Perceived" (1962), both published by The Hogarth Press", Foreign Faces" (1964), "New York Proclaimed" (1965) and "Dublin" (1967). The author of biographies of Balzac and Turgenev, he gave the Clark Lectures on George Meredith in 1969. He was for many years a director of and contributor to the New Statesman. He contributed regularly to the "New Yorker" and the "New York Review of Books". His critical works include "The Living Novel" (1949), "The Myth Makers" (1979), "The Tale Bearers" (1980) and "A Man of Letters" (1985). His two volumes of autobiography", A Cab at the Door" (1968) and "Midnight Oil" (1971), are well known in Great Britain and abroad. His novels include "Nothing Like Leather" (1935), "Dead Man Leading" (1949) and "Mr Beluncle" (1959). The first volume of his Collected Stories appeared in 1982 and More Collected Stories in 1983. V.S. Pritchett died in 1997.

Darin Strauss is the author of the international bestseller "Chang and Eng" and the "New York Times" Notable Book "The Real McCoy," Also a screenwriter, he is currently adapting "Chang and Eng" with Gary Oldman. The recipient of a 2006 Guggenheim Fellowship in fiction writing, he teaches writing at New York University.