Light and Liberty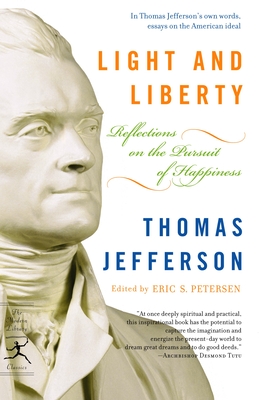 Light and Liberty
Reflections on the Pursuit of Happiness
Modern Library, Paperback, 9780812974324, 154pp.
Publication Date: June 14, 2005
* Individual store prices may vary.
Shop Local
Enter your zip code below to find indies closest to you.
Description
Were Thomas Jefferson alive to read this book, he would recognize every sentence, every elegant turn of phrase, every lofty, beautifully expressed idea. Indeed, every word in the book is his. In an astonishing feat of editing, Eric S. Petersen has culled the entirety of Thomas Jefferson's published works to fashion thirty-four original essays on themes ranging from patriotism and liberty to hope, humility, and gratitude. The result is a lucid, inspiring distillation of the wisdom of one of America's greatest political thinkers.
From his personal motto--"Rebellion to tyrants is obedience to God"--to his resounding discourse on "life, liberty and the pursuit of happiness" in the Declaration of Independence, Jefferson defined the essential truth of the American spirit. In the essays that Petersen has crafted from letters, speeches, and public documents, Jefferson's unique moral philosophy and vision shine through. Among the hundreds of magnificent sentences gathered in this volume, here are Jefferson's pronouncements on
Gratitude: "I have but one system of ethics for men and for nations--
to be grateful, to be faithful to all engagements and under all circumstances, to be open and generous."
Religion: "A concern purely between our God and our consciences."
America's national character: "It is part of the American character to consider nothing as desperate; to surmount every difficulty with resolution and contrivance."
Public debt: "We shall all consider ourselves unauthorized to saddle posterity with our debts, and morally bound to pay them ourselves."
War: "I abhor war and view it as the greatest scourge of mankind."
In stately measured cadences, these thirty-four essays provide timeless guidance on leading a spiritually fulfilling life. Light and Liberty is a triumphant work of supreme eloquence, as uplifting today as when Jefferson first set these immortal sentences on paper.
"From the Hardcover edition.
About the Author
Thomas Jefferson was born in Virginia in 1743 into a wealthy and socially prominent family. After attending the College of William and Mary, he went on to study law. At the age of twenty-six, Jefferson began building Monticello. Three years later, in 1772, he married Martha Wayles Skelton. The couple had six children, two of whom survived to adulthood. Considered elequent in his writing, although not as his speech, Jefferson took on much of the writing needed by the Virginia House of Burgesses and the Continental Congress, both of which he was a member. In 1776, at the young age of 33, Jefferson drafted the Declaration of Independence. From 1779 to 1781, Jefferson served as Governor of Virginia. Jefferson temporarily retired from public life after his term as governor, returning to public life in 1784 as a diplomat serving in France. In 1790, Jefferson was appointed Secretary of State in President Washington's Cabinet, but resigned in 1793 over a disagreement with Alexander Hamilton. As political disagreements continued to polarize the young government, Jefferson found himself leading those who sympathized with the revolutionary cause in France. In 1800, Jefferson was elected President in a tie vote that ironically was decided by Alexander Hamilton. In 1809, after two terms as President, Jefferson returned to his home in Monticello, where he developed, among other projects, plans for the University of Virginia. In addition, he sold his collection of books to the government to form the basis of the Library of Congress. Thomas Jefferson died on July 4, 1826.

I am a native of Minnesota where I live currently. I am an avid outdoorsman. I also enjoy virtually any sport that is competitive. My other interests include history and psychology. In the past I have enjoyed a career as a banker.
Praise For Light and Liberty…
"An extraordinary distillation of the though and wisdom of Thomas Jefferson."
—MERRILL D. PETERSON, professor emeritus of history, University of Virginia, author of The Jefferson Image in the American Mind


"Seamlessly weaving Jefferson's wisdom and lively moral imagination into discrete an dtimeless meditations, this far from common 'commonplace book' brings Jefferson's thoughts alive again for a new generation of Americans."
—FORREST CHURCH, author of The American Creed and editor of The Jefferson Bible