The Age of Shakespeare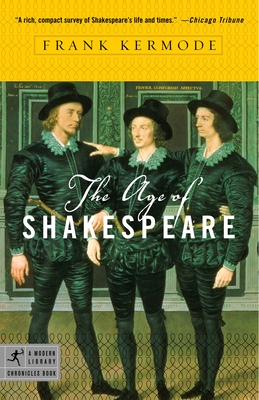 The Age of Shakespeare
Modern Library, Paperback, 9780812974331, 240pp.
Publication Date: May 10, 2005
* Individual store prices may vary.
Buy at Local Store
Enter your zip code below to purchase from an indie close to you.
or
Buy Here
Description
In The Age of Shakespeare, Frank Kermode uses the history and culture of the Elizabethan era to enlighten us about William Shakespeare and his poetry and plays. Opening with the big picture of the religious and dynastic events that defined England in the age of the Tudors, Kermode takes the reader on a tour of Shakespeare's England, vividly portraying London's society, its early capitalism, its court, its bursting population, and its epidemics, as well as its arts including, of course, its theater. Then Kermode focuses on Shakespeare himself and his career, all in the context of the time in which he lived. Kermode reads each play against the backdrop of its probable year of composition, providing new historical insights into Shakspeare's characters, themes, and sources. The result is an important, lasting, and concise companion guide to the works of Shakespeare by one of our most eminent literary scholars.
"From the Hardcover edition.
About the Author
FRANK KERMODE is Britain s most distinguished scholar of sixteenth- and seventeenth-century literature. He has written and edited numerous works, including Shakespeare s Language, Forms of Attention, Not Entitled, The Genesis of Secrecy, and The Sense of an Ending. He has taught at many universities, including University College, London, and Cambridge University, and has been a visiting professor at Columbia, Harvard, Yale, and several other American colleges. He lives in Cambridge, England. "From the Hardcover edition.""
Praise For The Age of Shakespeare…
"Frank Kermode is one of the great critics of our time. All his books should be required reading. The Age of Shakespeare is everything one could hope for: scholarly, fascinating, accessible, and, above all, a complete education in itself."
—Amanda Foreman, author of Georgiana: Duchess of Devonshire

"Drawing on his prevenient critical masterpiece (Shakespeare's Language) for everything to do with poetry, Kermode efficiently articulates the intricacies of Life, the Age, and the Stage, distributing the plays according to the sequence of theaters the bard so successfully exploited, and disclosing how the poems had to rely on changing patronal conventions. All the essential elements—even a bibliography!—are here, organized with a rare and rewarding elegance."
—Richard Howard, winner of the Pulitzer Prize

"During a lifetime of study, Frank Kermode has virtually internalized the body of Shakespeare's work, and lucky for us, he seems fond of externalizing the results in writing whose clarity rivals the depth and breadth of his scholarship. The perfect companion to Shakespeare's Language, in which the poetry itself came under his sensitive scrutiny, The Age of Shakespeare not only provides a wide-angle view of the social, political, and cultural conditions of the Elizabethan world but also pegs each play to its exact date of composition. Academics and common readers alike have much to learn from Kermode's illuminating and delectable study."
—Billy Collins, former U.S. Poet Laureate and author of Nine Horses and Sailing Alone Around the Room