We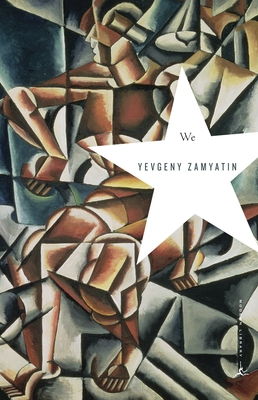 We
Modern Library, Paperback, 9780812974621, 203pp.
Publication Date: July 11, 2006
* Individual store prices may vary.
Buy at Local Store
Enter your zip code below to purchase from an indie close to you.
or
Buy Here
Description
Translated by Natasha Randall
Foreword by Bruce Sterling
Written in 1921, "We" is set in the One State, where all live for the collective good and individual freedom does not exist. The novel takes the form of the diary of mathematician D-503, who, to his shock, experiences the most disruptive emotion imaginable: love. At once satirical and sobering and now available in a powerful new translation "We" is both a rediscovered classic and a work of tremendous relevance to our own times.
About the Author
Yevgeny Zamyatin was born in Russia in 1884. Arrested during the abortive 1905 revolution, he was exiled twice from St. Petersburg, then given amnesty in 1913. We, composed in 1920 and 1921, elicited attacks from party-line critics and writers. In 1929, the Russian Association of Proletarian Writers launched an all-out attack against him. Denied the right to publish his work, he requested permission to leave Russia, which Stalin granted in 1931. Zamyatin went to Paris, where he died in 1937.
Mirra Ginsburg is a distinguished translator of Russian and Yiddish works by such well-known authors as Mikhail Bulgakov, Isaac Babel, Isaac Bashevis Singer, and Fyodor Dostoevsky. Editor and translator of three anthologies of Soviet science fiction, she has also edited and translated A Soviet Heretic: Essays by Yevgeny Zamyatin, and History of Soviet Literature by Vera Alexandrova.
Bruce Sterling is the author of the nonfiction books Tomorrow Now and The Hacker Crackdown, as well as the novels Distraction, Holy Fire, Heavy Weather, and Islands in the Net. With William Gibson he co-authored the acclaimed novel The Difference Engine. He lives with his wife and two daughters in Austin, Texas.
Praise For We…
"[Zamyatin's] intuitive grasp of the irrational side of totalitarianism—human sacrifice, cruelty as an end in itself—makes [We] superior to Huxley's [Brave New World]."—George Orwell